Making the world a better place.
That's what we're most proud of.
7 of the largest 11 foundations in the world use Fluxx to help them make grants.
Fluxx users collectively represent more than $90 billion in total assets.
$5 billion of grants have been awarded using Fluxx.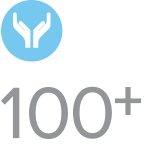 Fluxx users support philanthropic work in more than 100 countries.
Grantseeker
GET STARTED NOW
Grantmaker
GET DEMO
Impact Intelligence
TRY IT NOW
Fluxx is Revolutionizing Grants Management
The Leaders in Philanthropy Use Fluxx