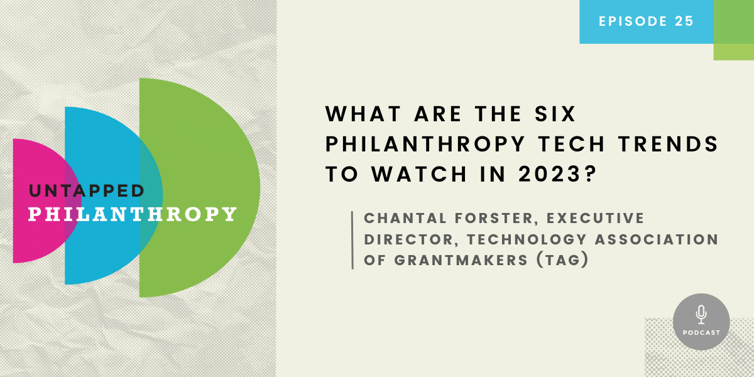 This month's episode of Untapped Philanthropy featured Chantal Forster, Executive Director of the Technology Association of Grantmakers (TAG), and she brought with her insights on TAG's 2023 Philanthropy Tech Trends article. With a base of over 3000 members and 400 grantmaking organizations from across the world, TAG serves as a valuable voice in the world of technology and philanthropy.

Kerrin Mitchel and Tim Sarrantonio dove right in to unpack these trends, resulting in a lively conversation:
Philanthropy's Role in Our Tech Future (8:44)
At the forefront of the report is the role that philanthropy plays in the future of technology, and more to the point of "responsible technology". In the wake of many high-profile dissolutions of key responsible innovation teams at big tech firms such as Meta, the question is now centered around "who is picking up the mantle in responsible technology innovation?"

One of the topics at last year's TAG Conference in San Antonio was about building a framework for responsible technology. Technology leaders in philanthropy tech are now exploring what would it look like for philanthropy to build that framework and how would they hold each other accountable for responsible and responsive innovation.
Coworking Spaces for Remote Philanthropy (18:25)
The pandemic forced a necessary move to remote work, and it is the reason why foundations had to reimagine how they work and operate. In TAG's 2022 State of Philanthropy Tech Survey, 77% of respondents were planning to move to a hybrid/remote workplace model. Additionally, 63% of smaller private foundations are forgoing physical space entirely and going fully remote.

This opens up an opportunity for larger foundations, who have the physical spaces, to leverage the "extra space" to now incorporate coworking environments for smaller foundations, nonprofits and other organizations.
Values Move from Conversations to Implementation (22:49)
At the TAG conference there was a theme of moving beyond just talking about taking action, and more about implementing and actually taking action.

This is evident in areas like funding operational technologies, often seen as overhead, was an important talking point in the past 2-3 years. Now there is evidence of organizations actually implementing these more operation technologies, such as infrastructure. This is one example of how conversations of the past are becoming actions in the present.
Data Moves from the Fringe to the Fore (29:32)
Data was the buzzword at the TAG conference, and continues to be a hot button topic for organizations. Organizations like Candid, Giving Tuesday, Charity Navigator, and the Philanthropic Data Commons (PDC) are all claiming to have a common, democratized data infrastructure. The "Race to Data Commons" as it is called is the move to democratizing data, but what does it really look like?

Chantal talked about sustained funding for an open data infrastructure, investing in a shared infrastructure, and whether philanthropy is willing to create a shared infrastructure for data. And not only just create it, but also fund it, maintain it and govern it - it's a big task, but TAG is seeing more and more movement towards a data commons.
Customer Experience Comes to Philanthropy (34:02)
When looking at the role the customer experience plays in philanthropy, Chantal puts it best by saying:

"(The customer experience) means identifying the value, the pain points and the gain points for whomever is your customer, whether that's a student at a university, a patient at a healthcare facility…understanding what they get out of that series of transactions and making it as easy for as possible for them to solve their problems and get what it is they came for. Philanthropy is just beginning to embrace this mindset and view grantees, nonprofit partners, as customers. I think this is a really important shift. Because what's the goal of philanthropy at the end of the day? It's improved societies, right? And who does that work? It's not the foundations. It's the nonprofits."

Tim mentioned all these friction points that exist in the interaction with multiple systems. All it takes is one bad experience - one bad field or form - and you can lose a donor forever. The latest donor retention rate is 18%, which is an alarming statistic where an improvement on the customer experience can make a positive impact.
Learning from Community Foundations' Responsiveness (39:29)
TAG's 2022 State of Philanthropy Tech survey saw a pattern of responsiveness to nonprofits from community foundations that was unique within the sector. Within the survey, community foundations provided funding for tech assistance to a greater degree than any other type of foundation. They were also more likely to provide the tools and technical skills training to support their nonprofits - more so than any other foundations in the sector.

Why that may be the case comes from their proximity to the community and the regional aspect of community foundation. "There's strong evidence in philanthropic psychology around regionalism, and even the priorities change as somebody lives in a community longer. On individual giving, there's been some academic studies that have shown that even the things that people support change, the longer that they live somewhere," said Tim.

There is also a greater sense of accountability within community foundations. In speaking to the accountability of the community foundations, Chantal adds, "They raise funds from donors. So ultimately, unlike foundations with an endowment, that solely rely on their endowment, community foundations are accountable to their donors. Accountability makes a huge difference in responsiveness to the community. So I suspect it's some combination of both proximity and accountability."

For a comprehensive list of all Untapped Philanthropy episodes, visit the Fluxx blog, or your favorite podcast listening station, including Apple Podcasts and Spotify.

Episodes of Untapped Philanthropy are released monthly and always shared on the Fluxx blog. We encourage you to subscribe to the Fluxx blog to stay up to date on new episode releases and follow us on social media for podcast excerpts and more!

Download the transcript here.