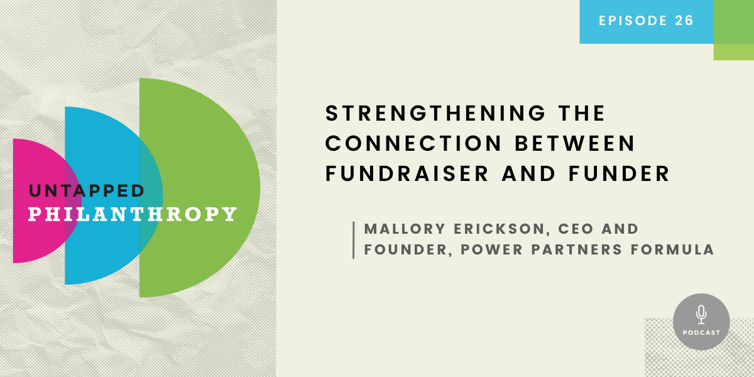 This episode of Untapped Philanthropy takes a turn to focus on the grantee / nonprofit perspective, which for the team was a refreshing change to help expand the conversation for all sides of philanthropy. That is why they were thrilled to speak to Mallory Erickson who is a certified coach, a nonprofit business leader who delivers unique programs around technical fundraising expertise and coaching skills necessary to address the fears and discomfort around asking for money.

Throughout her career, Mallory has been shaped by the generosity of giving, and how these sometimes simple acts for one person can have a profound impact on a nonprofit. More recently, Mallory has been researching very deeply the different behaviors that funders and fundraisers exhibit when they interact with each other. When talking about the difference of relationship between fundraisers and funders, Mallory explains:
"..when I'm thinking about the relationship that's happening between a fundraiser and a funder, first of all, just like at the high level in either, I'm really looking at what creates connection. And when I say connection, I actually think about it in terms of biological, neurological, psychological connection. What are the things that allow us to feel open, to feel seen, to feel like we have space to let the other person be seen? What does it actually take to build a healthy relationship?"
As with any relationship, there are inherent challenges and obstacles along the way that can cause friction in the relationship. Mallory explains on how to foster and cultivate these connections to help overcome the gaps from funder to fundraising, with these questions that arise:
"How do we preserve all of the things that are wonderful about this partnership while we navigate these unclear waters? How do we make sure we're not jeopardizing our relationship at every speed bump in every way? And to recognize that there are these power dynamics.….And so when we're in a level of such heightened vulnerability, we go into protection mode totally understandably. And then when we're in that mode, when we're in perfectionism, we cannot actually connect, we cannot really connect, because we're not letting ourselves be truly seen. And then we're …not activating our empathy, because we have a lot of tunnel vision around our own experience, our own fear and scarcity feelings."
The relationship strain can create that disconnect, and there is a level of work that needs to be built around trust and creating the best experience possible for both parties. Mallory explains that anything a funder can do in the relationship to let down or release the pressure to ensure that it doesn't have to be perfect to be a connection is beneficial. It's about alignment, and if funders and fundraisers are looking to achieve the same goals, they can share their challenges and break down these barriers to build trust.

One interesting point is the stigma around the word "Trust" When hearing the word trust, Mallory illustrates that it points to how funds are used, or overhead, and more operational aspects. But trust is also about partnership as well:
"​​All those different things, as opposed to trust in how you are going to be a good partner? Are you going to be honest with me about things that happen in our relationship? Can I trust that this can be a healthy relationship and a true partnership? "
Later on in the podcast, Tim touches on the findings in the Fundraising Effectiveness Project which is forecasting how the challenging economic climate is setting up for a potentially frustrating fundraising environment. Mallory gets into the mechanics of fundraising and how difficult it can be to face rejection and keep coming back each day. She talks about the traits of resilience in a fundraiser, but also how funders can break down the barriers to help open the connection to create a more supportive environment:
"...being a fundraiser is incredibly hard .... their ability to prompt that next donor, to click send on the email. Those seem very simple, those are very simple tasks. But they are not easy tasks .... They are hard tasks, because they are scary tasks. And so all these tiny little things that we're talking about funders, not ghosting fundraisers, having a moment of expressing our own challenges and down regulating the nervous systems of everybody in the room. Those are healing practices, those are what create the conditions for resilience for those fundraisers. That's what allows them to feel connected. And when we feel connected, that's when we're getting energy. In connection, we are not burning out."
Check out the entire discussion in the player above.

For more insight on this topic (and more) you should check out Mallory's own podcast entitled "What the Fundraising" on her site https://malloryerickson.com/. You can also learn more about Mallory's "Power Partners FormulaTM" which helps to build the relationship between fundraiser and funder.

For a comprehensive list of all Untapped Philanthropy episodes, visit the Fluxx blog, or your favorite podcast listening station, including Apple Podcasts and Spotify.

Episodes of Untapped Philanthropy are released monthly and always shared on the Fluxx blog. We encourage you to subscribe to the Fluxx blog to stay up to date on new episode releases and follow us on social media for podcast excerpts and more!

Download the transcript here.