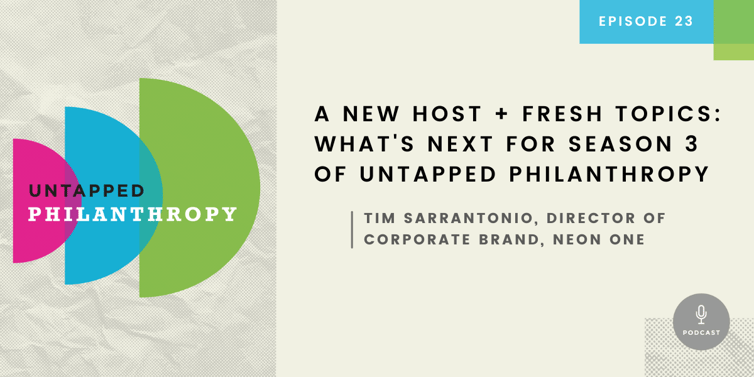 Another fantastic year of Untapped philanthropy has come to a close! This year, the conversations felt charged, and the industry leaders we spoke with all seemed eager to support progress for our industry. And while our podcast tries to cover a few key topics equally — the future of philanthropy, technology, policy, and capacity building efforts for grantees — this season our conversations seemed to always come back to trust-based philanthropy.

We explored how we might implement trust-based philanthropy, learned from the leaders who worked to define this movement for funders, and took an honest look at the prevailing power imbalances of nonprofits and foundations. These conversations left us feeling inspired and ready to make a change too.

Untapped Season Finale: A new host + fresh topics: what's next for season 3 of Untapped Philanthropy

Fluxx co-founder and CDO, Kerrin Mitchell, will no longer be Untapped Philanthropy's only host. We're combining Kerrin's extensive foundation, technology, and capacity-building experience with a nonprofit veteran who you might remember from season 1 of the podcast.

We could not be more excited to welcome the Director of Corporate Brand for Neon One, Tim Sarrantonio to the podcast as its season 3 co-host. Tim's deep understanding of fundraising, community-building programs, and operations will allow us to dive further into trust-based philanthropy conversations, the grantee experience, and so much more.

Safe to say, there will be so much to unpack and so many incredible new guests to feature next season!
"I think there are really only two paths forward — either one where we get our act together or we don't. Trust continues to erode in our sector, and that's not a world that I wanna live in. And the morbid thing that I've been hearing is, well, you haven't been a fundraiser until you've lived through a recession," said Tim.
Bringing in a nonprofit veteran will allow us to further explore what enables nonprofits to create truly generous experiences and how nonprofits big and small can carve out space for themselves in our incredibly competitive giving landscape.
"This is what you're going to get next season — the intersection of everything that you've heard with Kerrin and all her guests slamming into the grind of individual giving. They both end up going to the same pot," said Tim.
Along with announcing our new co-host Tim and Kerrin gave listeners a preview of their speaking style and examined the key philanthropy trends that dominated this year, and made predictions about what conversations and trends will be especially important in 2023.
For a comprehensive list of all Untapped Philanthropy episodes, visit the Fluxx blog, or your favorite podcast listening station including Apple Podcasts and Spotify.

Episodes of Untapped Philanthropy are released monthly and always shared on the Fluxx blog. We encourage you to subscribe to the Fluxx blog to stay up to date on new episode releases and follow us on social media for podcast excerpts and more!
Download the transcript here.