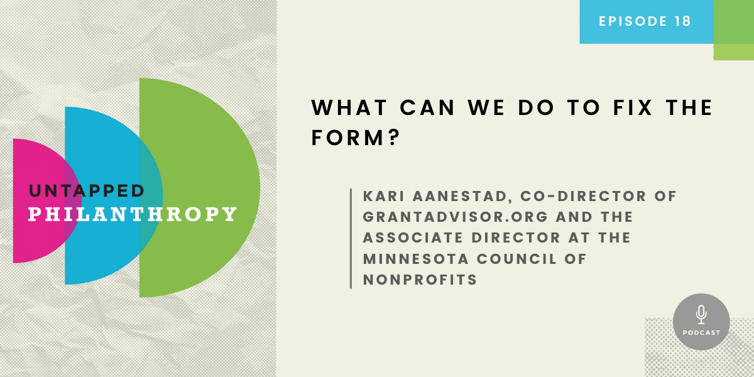 What's #FixtheForm? And why did this international Grant Advisor campaign gain so much traction in a few short months? All this and more is revealed in this month's Untapped Philanthropy episode!

Untapped Philanthropy Season 2, Episode 6: What can we do to Fix the Form?

It's no secret that millions of mission-related hours are lost every year navigating cumbersome grant application processes. To identify the needed top changes, a survey was launched by Laura Solomons, a fundraiser for a social mobility charity and former Trustee and Chair of a grant-giving foundation, and Kari Aanestad, the Co-Director of GrantAdvisor.org and the Associate Director at the Minnesota Council of Nonprofits. In less than four weeks it received 500 responses from grantseekers across nine countries, "representing every shape, size, and activity area of the nonprofit sector."
According to the results calculated by Grant Advisor, "nonprofits consistently report that "technical time-wasters" in grant applications consume 20-30 percent of their time." For those funders looking to improve accessibility and equitable access to funding, addressing these changes is paramount.
"It was surprising to learn how seemingly simple and applied the fixes could be. The top three problems were needing to see the full grant application ahead of time, how often the time spent applying for a grant was not aligned with the dollars that were awarded, and being able to save and return to a form," said Kari Aanestad.

The results of that survey birthed the #FixtheForm campaign, a grassroots organized effort designed to encourage funders and grants management platforms (of which Fluxx was one) to take action — NOW — to make immediate changes to their grant application process.

"The goal was to get 100 foundations to make changes and address grantee pain points, the first being the need to see the full grant application ahead of time," said Kari.

After years of campaigning and a successful partnership with the Technology Association of Grantmakers, about two-thirds of grantees have reported that funders have been making clear changes that serve grantees!

But the work of #FixtheForm encapsulated more than just the need to see a grant application ahead of going through the application process.

"All the results of the fix the forum survey are available at grantadvisor.org; we have a tab called #FixtheForm. And on that page, you'll be able to see all 16 of the pain points. We also have a checklist that funders can use when evaluating their own form that blends the pain points with recommendations," Kari.

As #FixTheForm partners ourselves, we strongly encourage both funders and grants management platforms to visit grantadvisor.org to learn what other pain points are felt by grantees and how they might be solved.

Click the link above to listen to Kari's Untapped Philanthropy episode and tell us what you think on Twitter.

Do you still need to catch up on episodes of Untapped Philanthropy? You can listen to last month's episode — what's next for the Impact Genome Project — featuring a conversation between Fluxx co-founder, Kerrin Mitchell, and Executive Director of the Center of Impact Sciences at the University of Chicago, and the co-founder of the Impact Genome Project, Jason Saul right from our blog or on your favorite podcast listening apps including Apple, Spotify, and Google.

Episodes of Untapped Philanthropy are released monthly and will always be shared via the Fluxx blog. We encourage you to subscribe to the Fluxx blog in order to stay up to date on new episode releases.


Download transcript here.