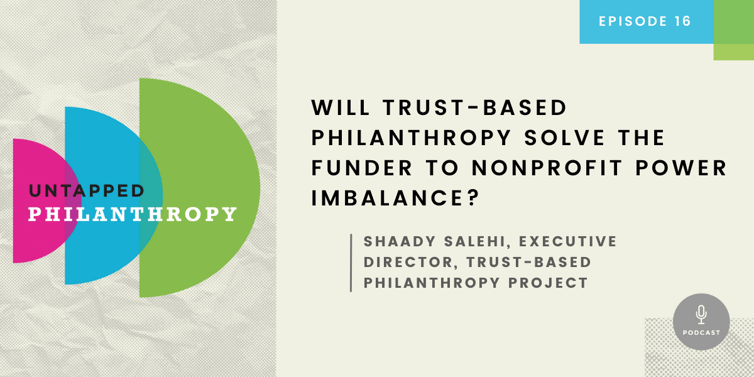 Once you've listened to this great episode, be sure to catch our follow-up episode on this topic with Geneva Richard from Move 92 - How can we implement trust-based philanthropy?
Additionally, check out our recent session from FluxxCon on how 1892 Consulting and Wildcard Giving brought Trust Based Philanthropy to life with Fluxx, reducing application barriers and building on interpersonal relationships leading to an on going trust and respect between grantors and grantees. Watch it here
---
The Trust-Based Philanthropy Project is a five-year peer-to-peer funder initiative designed to address the inherent power imbalances between foundations and nonprofits. It's an initiative built around action and immediacy. A quick perusal of the team's website will immediately bring you to the six practices of trust-based grantmaking which the team hopes will not only break down the buzz-y term of trust-based philanthropy into actionable steps, but also encourage funders to make immediate equitable changes.

The work of the Trust-Based Philanthropy Project is aligned with our work and mission here at Fluxx. We believe that it's not only possible — but also essential — for technologists to partner with philanthropists in order to build pathways to deeper and more trusting partnerships between funders and grantees.

That's why we are especially thrilled to share more about this week's Untapped Philanthropy podcast featuring a conversation between Fluxx co-founder, Kerrin Mitchell, and Executive Director, Trust-Based Philanthropy Project, Shaady Salehi.

Untapped Philanthropy Season 2, Episode 4: Will trust-based philanthropy solve the funder to nonprofit power imbalance?

Shaady's desire to support the Trust-Based Philanthropy Project is driven by her own extensive experience in the field. She spent 11 years at her first nonprofit, working her way up to an Executive Director position while still in her 20s.

"I quickly became privy to power dynamics and how challenging it is for leaders that are trying to do good work and trying to lead teams. So that was kind of when things crystallized for me and I saw some of the challenges in this sector that I love so much. At that time I was thinking; what can we do differently to make things easier and better for young emerging leaders, especially women of color that are put into these leadership roles without necessarily having the full infrastructure of support from philanthropy," said Shaady.

The power dynamics in question are exactly what the Trust-Based Philanthropy Project is hoping to dismantle with its six actionable practices of trust-based philanthropy. And while on the surface these practices could unnerve funders who have relied on heavily detailed or perhaps customized reporting and impact measurement structures, as Shaady explains, these processes in no way diminish the work happening in philanthropy today.

"There is this misperception that trust-based philanthropy does not lean on any evidence or data to inform its work. But I would say that any funder that genuinely cares about nonprofits achieving their intended impact, and that cares about a more equitable, connected, and democratic society can find some real opportunity in a trust-based approach," said Shaady.

"What I think is truly compelling about this is how it calls everyone forward. It invites people to unite around relationships and the common humanity that we all share. So it's a lens of collaboration and partnership. Practices like trust-based philanthropy help us to listen carefully, adjust in real-time, and be consistent, compassionate, and equitable in our decision-making," said podcast host and Fluxx co-founder, Kerrin Mitchell.

Click the link above to listen to Shaady's Untapped Philanthropy episode and tell us what you think on Twitter.

Do you still need to catch up on episodes of Untapped Philanthropy? You can listen to last month's episode – which nonprofits would benefit from endowments – featuring ​​The Bridgespan Group's Managing Partner William Foster, right from our blog, or on your favorite podcast listening apps including Apple, Spotify, and Google.

Episodes of Untapped Philanthropy are released once a month and will always be shared via the Fluxx blog. We encourage you to subscribe to the Fluxx blog in order to stay up to date on new episode releases.

Download transcript here.