Featured
What's next for the Impact Genome Project?
Subscribe
Be the first to know about new Fluxx grants management resources, blog articles and podcasts.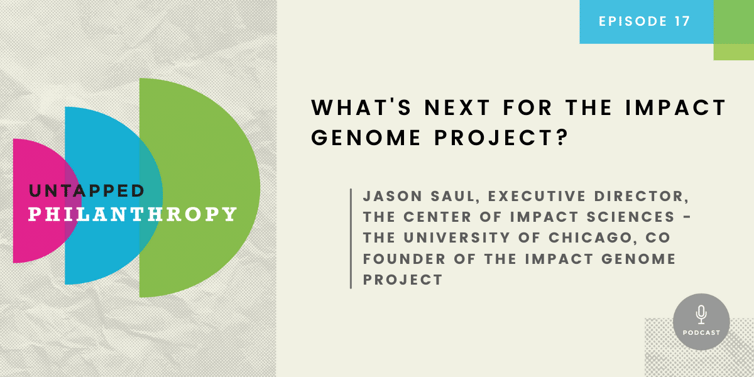 The Human Genome Project was an international scientific research project working to determine the base pairs that make up human DNA in order to sequence all of the human genome. And no, Untapped Philanthropy hasn't suddenly pivoted from discussions on philanthropy to science. But we thought it might be helpful to remind you of the famous Human Genome Project because this week's philanthropy guest is taking a similarly scientific approach to philanthropy.

The Impact Genome Project has taken a similar approach to philanthropy by analyzing the DNA of impact programs to determine what is and isn't working.

This week we are thrilled to have the Executive Director of the Center of Impact Sciences at the University of Chicago and the co-founder of the Impact Genome Project, Jason Saul on the podcast to tell us about his work, and most importantly — share more about the Project's integration with Fluxx!

Untapped Philanthropy Season 2, Episode 5: What's next for the Impact Genome Project?

The Impact Genome Project was born when Jason Saul realized that the scientific approach of the Human Genome Project had been adopted for music. Upon learning about Pandora's Music Genome Project Jason reached out to Dr. Nolan Gasser (one of the early developers of Pandora) and a partnership was born. The following six years at the Impact Genome Project were spent mapping, categorizing, and cataloging grants, the nonprofits they funded, and their outcomes.

"There are millions of different ways of solving a problem and there are beneficiaries everywhere, it's seemingly a mess from 50,000 feet up. But as you get closer you start to realize that while there are so many different charities and millions of different grants they're all aiming at the same finite set of goals or outcomes," said Jason.

Sort of like gene sequencing, the team "sequenced" 70,000 different outcomes from over 11,000 different grants to map their key outcomes.

"When you look at all the millions of charities through the lens of outcomes it becomes extremely ordered and sensible. First off, there are only 132 common outcomes and yet there are 1.4 million charities. So, basically, that's about 10,000 charities for every outcome," said Jason.

And thousands of these social programs have a similar operational DNA. "Many of them [charities] are using either mentoring, financial incentives, or integrating with schools for engagement. The interventions they use are very common. So that's also really fascinating," said Jason.

Soon the team expanded from mapping impact to measuring and benchmarking nonprofits based on their impact and efficacy. The team saw an opportunity to find similarly focused nonprofits and match them with evidence and research that would allow them to measure the effectiveness of their work. They hope these insights will also help teams discover the most effective strategies for their intended impact.

So what does this mean for the philanthropic industry and for Fluxx?

Fluxx is partnering with the Impact Genome Project to develop an integration within the Fluxx grants management platform. Fluxx users will be privy to an impact registry for nonprofits and funders will be more equipped to source, compare, and evaluate social impact. Additionally, nonprofits will be able to store and access organizational and program data from a centralized clearinghouse.

By using a registry, nonprofits will be more discoverable by funders seeking to fund specific outcomes and beneficiaries. This will level the playing field for nonprofits of all sizes — rendering them equally capable of competing for funding based on their ability to deliver results, instead of their marketing or connections.

Click the link above to listen to Jason's Untapped Philanthropy episode and tell us what you think on Twitter.

Do you still need to catch up on episodes of Untapped Philanthropy? You can listen to last month's episode — will trust-based philanthropy solve the funder to nonprofit power imbalance — featuring a conversation between Fluxx co-founder, Kerrin Mitchell, and Executive Director, Trust-Based Philanthropy Project, Shaady Salehi, right from our blog, or on your favorite podcast listening apps including Apple, Spotify, and Google.

Episodes of Untapped Philanthropy are released once a month and will always be shared via the Fluxx blog. We encourage you to subscribe to the Fluxx blog in order to stay up to date on new episode releases.


Download transcript here.