Fluxx Named the Leading Grants Management Software Solution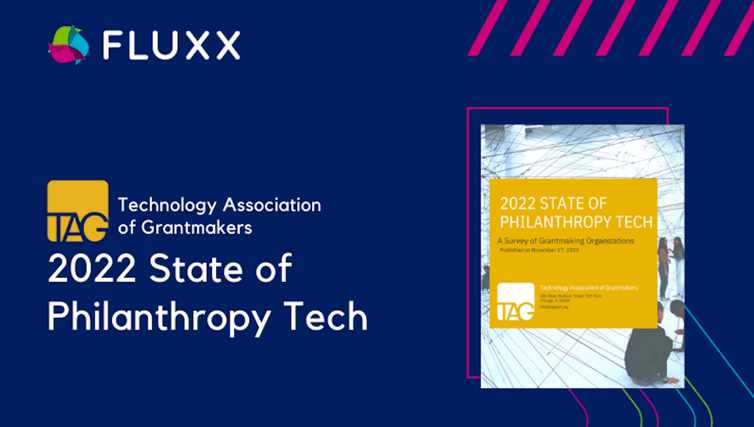 On the heels of a wildly successful (and in-person) annual conference, the Technology Association of Grantmakers (TAG) has released the results of their comprehensive survey on trends and insights into how technology is shaping philanthropy. The 2022 TAG State of Philanthropy Tech Report is now available, taking responses from 277 organizations across North America, the EU and the U.K.
The report covers a wide range of topics, including the impact of the remote workplace, IT budgets and staffing, cybersecurity, and how grantmaking organizations handle system selection.
Here are three key findings that stood out for us:
77% of respondents plan to move to a hybrid/remote workplace in 2023 and beyond
For many industries, the pandemic has proven that the ability to work remotely has become a normalized trend as organizations begin to return to normal operations. Further breaking it down:
73% of community foundations are moving to hybrid or remote workplaces.
81% of family foundations are adopting a hybrid/remote model.
84% of independent (private) foundations are trending toward hybrid and/or remote.
100% of corporate grantmakers are leading the way in the remote workplace.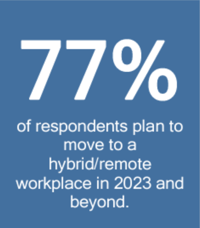 It's no secret that the remote workplace shift has impacted collaboration and training solutions — another interesting trend discussed in the report. In fact, 76% of the respondents have implemented collaboration tools such as Slack or Teams to help with communication in a remote work environment.
While the shift to a hybrid/remote approach has grown, 36% of respondents still need to change their training methods (which is surprising — and, hopefully, this lagging trend will reverse in the coming year). However, of those that have changed their training methods, 48% percent have launched webinars or remote training sessions, which shows that the shift to a digital platform is impacting organizations.
IT budgets continue to represent a small percentage of total operating budgets
A continuing pattern within the philanthropic sector is the perception of technology and the allocation of the operating budget to scaling and investing in technologies to support the organization. Fifty percent of respondents state that they allocate between 1-5% of their overall operating budget to technology, while 36% allot between 6-10% to tech. That means 86% are spending 10% or less on investing in the tools and systems to help support their organizations, which does raise some flags in the future of technology investment.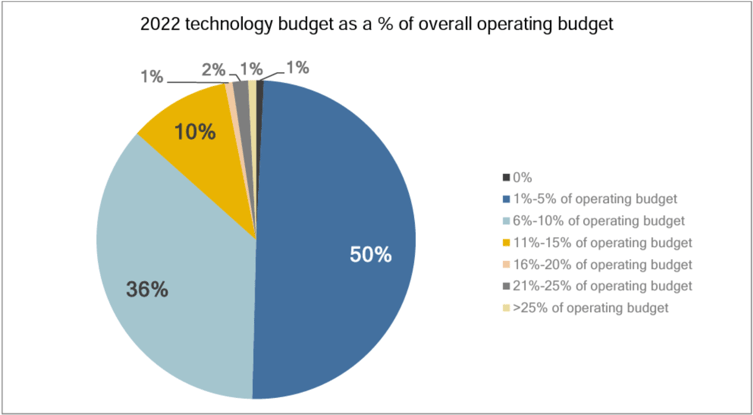 With a limited budget for new technologies each year, it becomes difficult to determine which systems to implement and which ones will provide the most value for their operation. Organizations may seek solutions that serve multiple needs, such as a grants management solution that can provide additional functionality to reduce the systems that an organization will need to implement. Whether organizations are sacrificing quality for quantity remains the biggest challenge that requires more analysis.
Fluxx continues to lead as the top choice for Grants Management Software amongst a broad field of solutions
We'd be remiss if we didn't view the grants management software selection as a significant area of interest. Whenever such reports come out, it's always interesting to see how the technology landscape takes shape year after year. As shown in the graph below, Fluxx is leading the charge as the top choice among grantmakers for their grants management software:
What is the primary grants management software or service that your organization uses?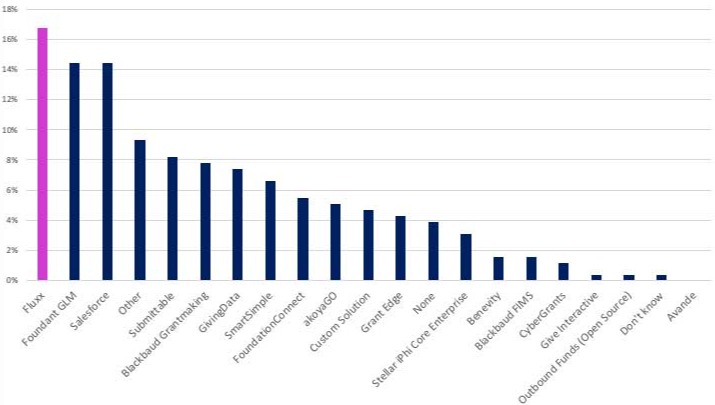 Data Source: TAG 2022 State of Philanthropy Tech
In addition to being the top overall choice, Fluxx is the number one Grants Management System (GMS) for private foundations, with Foundant leading in community foundations, GivingData for family foundations and Submittable for government grantmakers.
It is a diverse field, with a large number of solutions in the market, which can be both beneficial and daunting at the same time. Organizations with a wide range of options should weigh what they need to look for in a grants management system and ensure that all operational needs are met.
The full report covers a broader range of topics and trends, including crisis response data, challenges when building a culture of DEI, cybersecurity and much more. The Technology Association of Grantmakers does a great job of providing a comprehensive view of philanthropy technology, and it is an excellent tool for organizations looking to benchmark their organization against their peers.