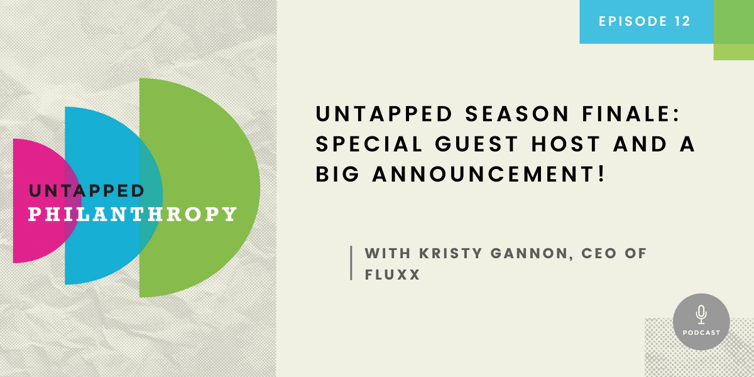 One year and 12 episodes later, season one of Untapped Philanthropy is a wrap! And this week, our season finale of Untapped Philanthropy is extra special. CEO of Fluxx, Kristy Gannon, guest hosts and interviews Kerrin Mitchell about her time hosting season one of Untapped Philanthropy, and what she hopes to accomplish in the new year.

And as a bonus for our listeners, we shared a special Fluxx announcement at the end of the episode!

Untapped Season Finale, Episode 12: Special Guest Host and a Big Announcement!

For this episode of Untapped Philanthropy, Kristy Gannon flipped the script on Kerrin, sitting her in the interviewee hot seat so Kerrin could share a little about her perspective on the podcast, her favorite guests, and her plans for season two.

"Looking back at the first episode with Dan Lamont, he was so energetic and eloquent… he had such an interesting perspective. He thought through not just the work that had been done for the social sector, but also the grantee experience, storytelling, and philanthropic innovations. It was one of my favorite episodes," Kerrin said.

"Teddy Schleifer is also a really important voice in the sector. We were able to examine the role that journalists can play in media, and the work of journalists can elevate so many places and people," Kerrin said.

For more information about episodes one through 11 of Untapped Philanthropy, visit the Fluxx blog, or your favorite podcast listening station including Apple Podcasts and Spotify.

So what's in store for season two of Untapped Philanthropy?

Season two kicks off this January with the President and CEO of PEAK Grantmaking, Satonya Fair! Tune in to learn from Satonya and Kerrin as they examine DEI, the future of Philanthropy, and what nonprofits should gear up for in 2022.

What's in store for Fluxx?

Dedicated listeners of Untapped philanthropy know that the guests (and the big philanthropic trends and topics of our time) are the focus of Untapped Philanthropy. But during this special season finale episode, Kristy Gannon was pleased to announce that, "Fluxx has been acquired by Metamorph Partners. This acquisition will allow us to grow the Fluxx community and our team so that our incredible customers and the industry has access to new resources and new capabilities as we take this step forward."

To learn more about Fluxx's acquisition and what this means for our customers and the industry, read this important interview from Kristy Gannon and Kerrin Mitchell.

Click the link above to listen to Lynette's Untapped Philanthropy episode and tell us what you think on Twitter.

Episodes of Untapped Philanthropy are released once a month, and will always be shared via the Fluxx blog. We encourage you to subscribe to the Fluxx blog in order to stay up to date on new episode releases.

Link to Podcast transcript here.