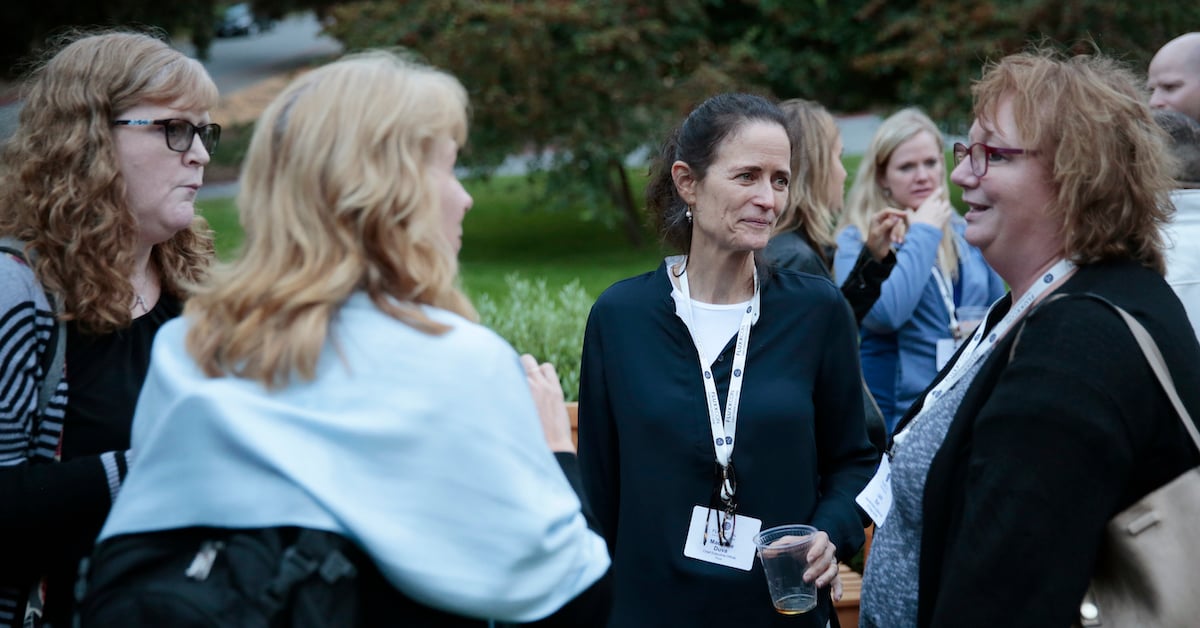 We've always considered ourselves more than a tech company. Sure, we provide the best in class software that powers giving and impact – helping foundations grant easier, collaborate better with their grantees and drive more change – but Fluxx also believes in building a strong community of purpose-driven individuals. In the past, we've gathered this community once a year for Fluxxcon, our user conference held in San Francisco. But a single conference isn't always convenient or accessible for all of our users; especially our international clients.
That's why in 2019 we came to you, bringing curated content and training together for Fluxx User Groups in select cities. In 2020 we're expanding our programming – taking our show on the road with even more Fluxx User Groups worldwide! Here is the typical agenda of our Fluxx Users Groups:
Day one: present Fluxx company updates, review Grantmaker roadmap, share user experience and deep dive into a specific topic.
Day two: train you on Fluxx Grantmaker and answer your burning product and process questions. Make no mistake, we always leave time for a happy hour at exceptional local watering holes.
Below is the list of all the Fluxx User Groups in 2020. If you're interested in attending any of these sessions, please reach out to me directly at shawn@fluxx.io, or visit our Events Page for more information.
Fluxx Meets San Francisco, Jan 23-24
Need an excuse to come to San Francisco? Meet us in January for our first 2020 user group! Day one of our Fluxx User Group will be held in the Fluxx headquarters downtown while day two will be hosted by the San Francisco Foundation in their stunning office space.
Fluxx Meets Seattle, March 12-13
If your January is already packed with activities but you're still itching to get that all-important Fluxx training as soon as possible, meet us in Seattle in March! The best part? This user group is hosted right after the PEAK Annual Conference. So if you had plans to attend PEAK, we invite you to extend your stay and enjoy the beauty of Seattle for another two days.
Fluxx Meets EU/UK, April
We're targeting London as the host city for our first European user group! Stay tuned for final dates, but know we are looking forward to bringing our EU and UK clients together this coming April.
Fluxx Meets New Zealand, May 5-7
Our second New Zealand user group will be hosted during the Combined Community Trust Conference in May. The CCTC hosts all New Zealand community foundations, and we look forward to connecting with friends old and new.
Fluxx Meets Michigan, June 8-9
The Mott Foundation in Flint Michigan is generously hosting our Michigan user group. We 'can't wait to connect with all of our Midwest clients (and beyond) in June!
Fluxx Meets New York, September 14-15
The Helmsley Charitable Trust in New York City has kindly offered to host our User Group in their office space! We are so looking forward to returning once again to New York City for what I know will be an excellent user group.
Fluxx Meets DC, October
This is the second chance for our East Coast clients to mingle! This time, we're coming to Washington D.C. in October (final dates to be determined). Be ready to set aside some time in the Fall to connect with your peers.
Fluxx Meets San Antonio on Nov 12-13
Our first-ever Texas user group will be happening in San Antonio in November. It will take place on the heels of the TAG annual conference. We thought it would make it easier for those of you attending both events.
Ready to attend a Fluxx User Group next year? Reach out to me directly at shawn@fluxx.io and remember to check out our Events Page for the latest updates.
See you all in 2020!