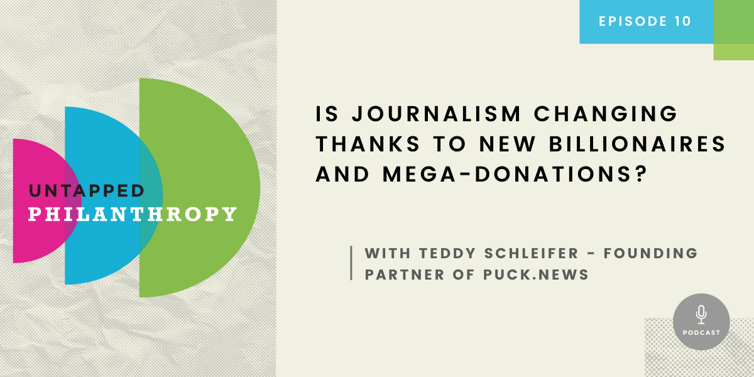 Despite being a worldwide trillion-dollar industry, philanthropy doesn't garner the same media coverage as say, the technology sector. But with so many new billionaires entering the funding space, and billionaires renewing their focus on environmental and societal causes, you'd think we'd be seeing more mass media news coverage. So where are the hard-hitting, deep-dive industry articles and why might they be difficult to come by outside of trusted philanthropy trade publications?

Enter Teddy Schleifer, Founding Partner of the new media company, Puck. Prior to Puck, Teddy covered money, influence, and billionaire philanthropy for Recode, which is owned by Vox. At Recode Teddy delved into crypto giving, Elon Musk's charity sending sprees, Jeff Bezos philanthropic, and everything in between. But more importantly, his coverage isn't just about the gifts, but the motive behind it, and the quiet power that drives one of the world's largest economic powerhouses.

At Puck, Teddy will continue to focus on big money and big giving, but now with the creative license that being a founding partner awards.

For this special 10th episode of Untapped Philanthropy, Teddy sits down with podcast host and Fluxx co-founder, Kerrin Mitchell, to discuss his coverage of funders, billionaires, big gifts, and what it means to influence today's economy and society through charitable gifts. Together they examine the challenges of covering philanthropy and explore what the future holds for philanthropic journalism.

Untapped Philanthropy Episode 10: Is journalism changing thanks to new billionaires and mega-donations?

"In philanthropy, everyone has a conflict of interest. I'm a believer that there are often two conversations that happen [grantee and funder] and then there's what actually gets written," says Teddy.

Covering mega-millionaires also comes with a special set of challenges, and mystique. "Wealthy people are just hard to cover. You know, I see this beat as fundamentally about inequality, and about the rich and the poor, and wealthy people are used to getting their way. So I think wealthy people at a higher level, make it hard for any observer, whether it's a reporter, an academic, or a researcher to cover the nonprofit sector," said Teddy.

Teddy and Kerrin also delve into the close association of philanthropy and policy, and what it takes to fully understand the motives and desires behind change. "The amount of money that wealthy people spend on political projects is really just a small sliver of their broader social impact spending. You could say the line between political projects and philanthropy can be very thin," said Teddy.

And with the latest Forbes 400 list demonstrating just how much more wealth is in the hands of some of the world's most influential and fascinating donors, there's never been a better time to examine the state of American philanthropy and the climate of its coverage.

Click the link above to listen to Teddy's Untapped Philanthropy episode and tell us what you think on Twitter!

Want more episodes of Untapped Philanthropy? You can listen to last month's episode – How can we leverage policy to propel transformative social impact? – featuring Founder of the Drive Agency, Jessy Tolkan, right from our blog, or on your favorite podcast listening apps including Apple, Spotify, and Google.

Episodes of Untapped Philanthropy are released once a month, and will always be shared via the Fluxx blog. We encourage you to subscribe to the Fluxx blog in order to stay up to date on new episode releases.
Link to Podcast transcript here.