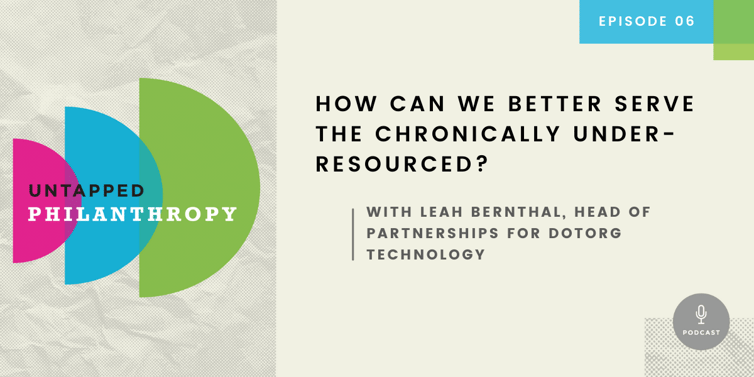 At Untapped Philanthropy we spend a lot of time analyzing the Tech for Good industry, the funder experience, and exploring how funders can democratize philanthropy in order to build a philanthropic collective that better serves our communities. For this special episode of the podcast, we turn our gaze to nonprofits and one of its industry experts.
Leah Bernthal dedicated her career to philanthropy starting at a young age. She co-founded the CoachArt nonprofit at the ripe age of 24. The organization offers free art and athletic lessons to chronically ill children and their siblings between the ages of 5-18, and turned their services to online classes and learnings during the COVID-19 pandemic. At CoachArt Leah served several positions including executive director and board director, teeing her up for the career she has now. Today she serves as the Head of Partnerships for dotOrg Technology and continues to consult at Every Purpose, the impact strategy firm she founded.

Together she and podcast host and Fluxx co-founder, Kerrin Mitchell, examine the impact space as it stands today, and unpack what cultural changes are needed for the future of the nonprofit industry.
Click the link above to listen as Kerrin and Leah examine:
How the nonprofit industry and CoachArt, in particular, changed during the COVID-19 pandemic
What lessons nonprofits should take from the for-profit industry
The difficulties (and success) of funder relationships and grant programs
To close out the episode the two women look ahead and predict what the future of nonprofits may look like as we work collectively to democratize philanthropy and incorporate more active listening techniques into our work.

Do you still need to catch up on previous episodes of Untapped Philanthropy? You can listen to last month's episode – How are funders working to democratize giving after the COVID-19 pandemic – featuring funder technologist, futurist, (and former Fluxxer) Sam Caplan, to explore the accelerated change of funders and technology. Episodes of Untapped Philanthropy are released once a month, and will always be shared via the Fluxx blog.

We encourage you to subscribe to the Fluxx blog in order to stay up to date on new episode releases.

Download the transcript here.