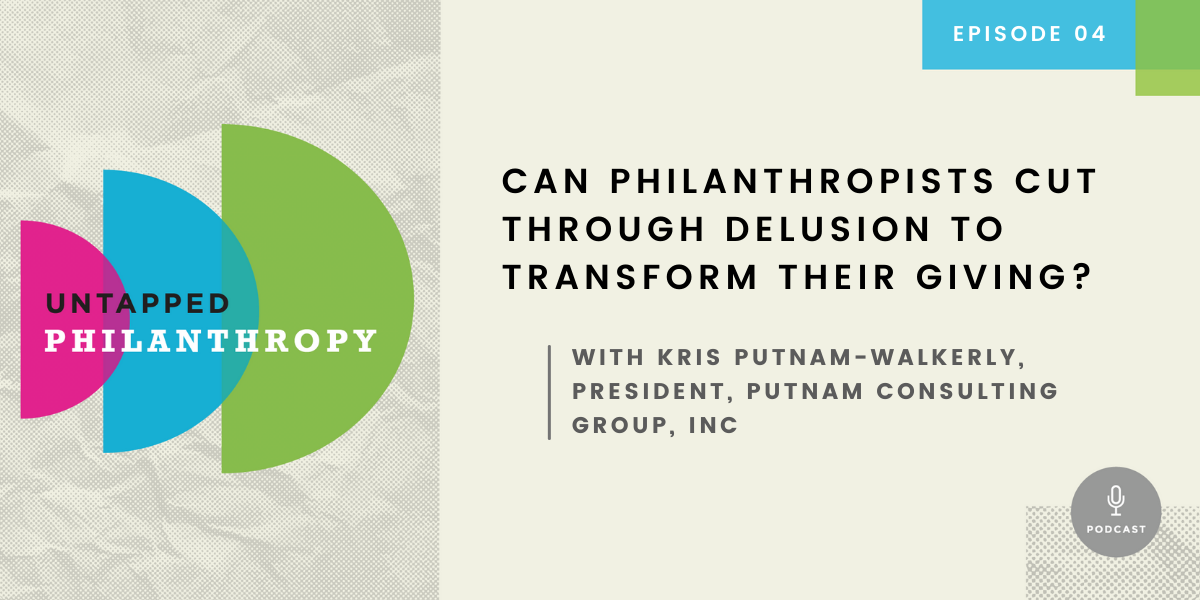 Fluxx is back with another scintillating episode of Untapped Philanthropy! This week we're thrilled to feature an author, advisor, consultant, and philanthropy coach who is just as obsessed with the future of philanthropy as we are, and works to help funders make future-forward decisions for their work.
Keep reading for more information about the episode, or give it a listen now using the link above.
Untapped Philanthropy Episode 4: Can philanthropists cut through delusion to transform their giving?
In the fourth episode of Untapped Philanthropy, Fluxx co-founder Kerrin Mitchell sits down with global philanthropy expert and advisor, Kris Putnam-Walkerly, to discuss her latest book Delusional Altruism: Why Philanthropists Fail to Achieve Change and What They Can Do to Transform Giving.
Kris has spent the last 20 years working closely with ultra-high net worth donors, family foundations, and Fortune 500 companies to increase their impact, and improve the focus of their giving. When she isn't putting pen to paper, Kris works as president of Putnam Consulting Group, where she's helped over 100 philanthropists strategically allocate over half a billion dollars in grants and gifts, including the David and Lucile Packard Foundation, Charles and Helen Schwab Foundation, Heising-Simons Foundation, Walton Family Foundation, Winthrop Rockefeller Foundation, Community Foundation Sonoma County, and Kate B. Reynolds Charitable Trust to name a few. Kris's work as both a philanthropy advisor and coach has allowed her an in-depth look into both corporate and private giving, a vantage point she leveraged when writing her latest piece.
She, like many others in the philanthropic space, hopes to help funders shed old bureaucratic philanthropy practices in order to increase impact, and change the funder mindset to one of abundance.
Together Kris and Kerrin discuss the following topics:
Why the scarcity mindset is particularly damaging for funders
Common entrenched delusions experienced in the philanthropic space
How an abundance mindset could change the way we give, collaborate, and work within vulnerable communities
Episodes of Untapped Philanthropy are released once a month, and will always be shared via the Fluxx blog. We encourage you to subscribe to the Fluxx blog in order to stay up to date on new episode releases.