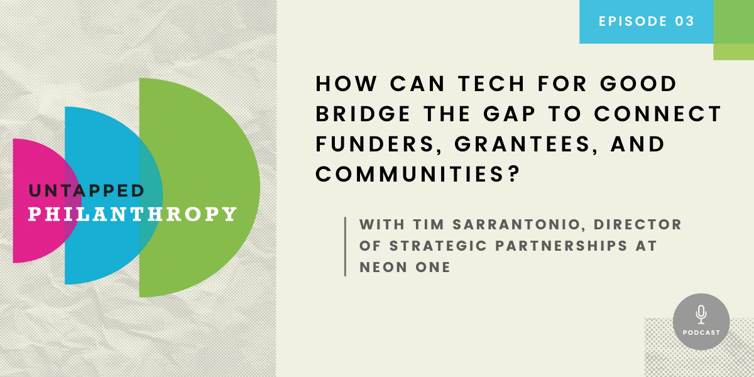 At Fluxx we're in the business of building technology that serves the social sector, which means we're always having critical conversations about social sector strategies. Which is why we're thrilled to focus this month's Untapped Philanthropy podcast episode on how we as a community can leverage technology to facilitate strategic thinking and in turn – a better grantee experience. So let's dive in.
Untapped Philanthropy Episode 3: How can technology (and technologists) best serve philanthropy?
In the third installment of Untapped Philanthropy, Kerrin Mitchell sits down with Tim Sarrantonio, who serves as the Director of Strategic Partnerships at Neon One, a nonprofit SaaS suite that serves as a one-stop-shop for an organization's CRM, donor management, and operations needs. Tim has devoted nearly 9 years to Neon One, and nearly his entire career to the philanthropic industry.
He's an operation and strategy enthusiast who is devoted to building a philanthropic "generosity ecosystem" and he would say through critical partnerships. Together he and Kerrin sit down to analyze how technology can facilitate a thriving giving ecosystem across both sides of the aisle - from funder to grantee.
Click the link above to listen to this episode and explore a range of topics from:
How technology can bridge the gap to reach out to connect funders, grantees, and communities
How funder and nonprofit technologies can mirror one another and collaborate more deeply through funder circles, resource alignment, open-data standard, and hyper-local organization
How technologists can script the grantee experience and further serve boots-on-the-ground organizations
A critical debate on what technology should be free and open to the sector versus proprietary to a singular company
Episodes of Untapped Philanthropy are released once a month, and will always be shared via the Fluxx blog. We encourage you to subscribe to the Fluxx blog in order to stay up to date on new episode releases.