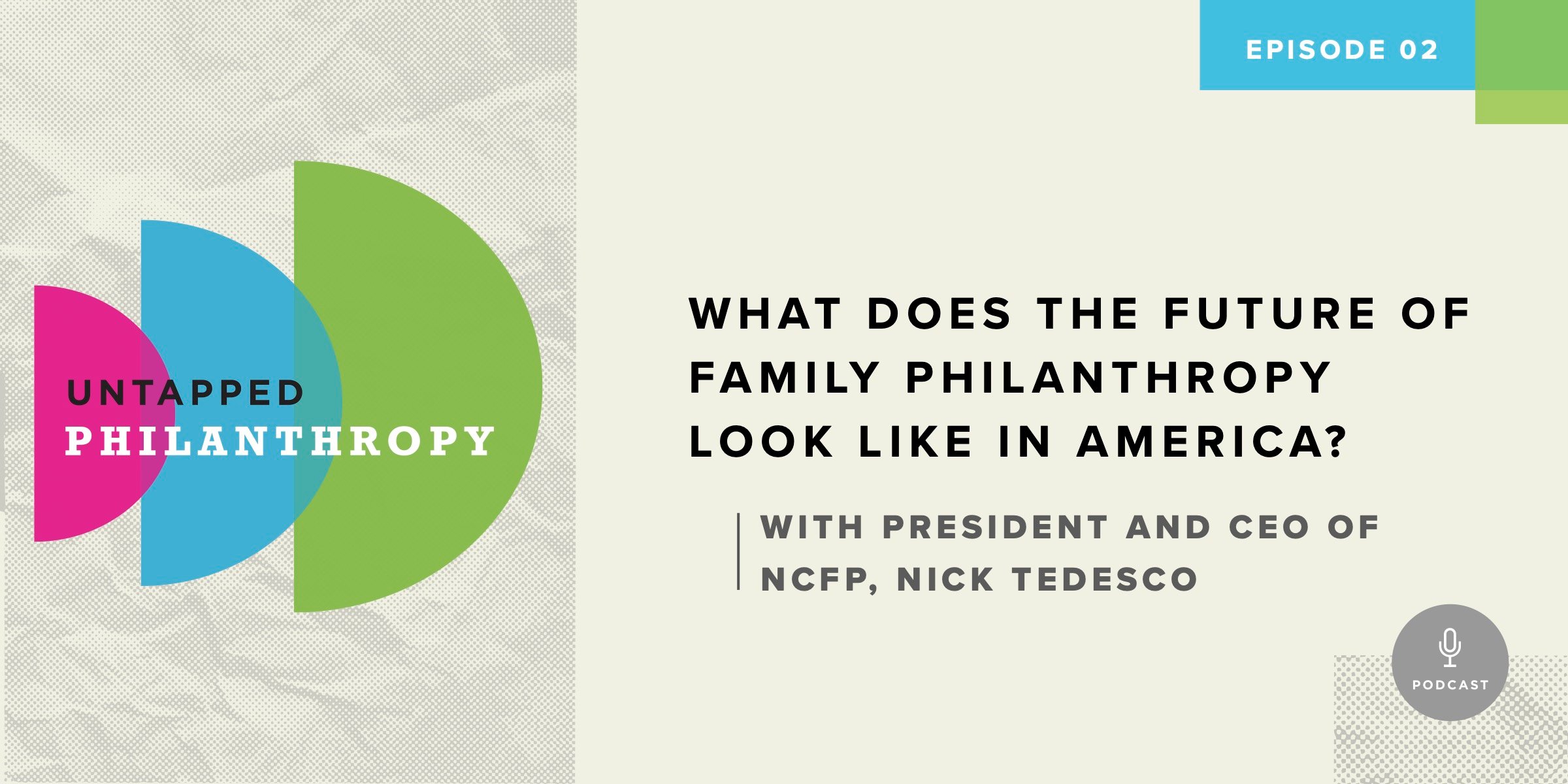 Fluxx is thrilled to launch Untapped Philanthropy – a podcast that explores funding, technology, and policy through the lens of visionary thought leaders shaping our industry. We created this podcast because we believe that philanthropists need more ways to feel connected and learn from one another during this ongoing global health pandemic and time of economic upheaval. And what better way to connect than through stories that you can tune into at any time while you're taking a walk, organizing your office or living space (which is now your child's schoolroom), or simply looking for a break from screens.
This podcast is hosted by Fluxx co-founder Kerrin Mitchell. Each episode will consist of 30-minute conversations between Kerrin and philanthropists and/or technologists who are developing the innovations of tomorrow. We hope this series leaves you inspired and eager to learn more about the collective action taking place in philanthropy.
Thus far Untapped Philanthropy has released two episodes. Click this link to learn more about the podcast and tune in to episode one, featuring Founder of threshold.world, Dan Lammot. In this blog, we will be covering episode two of Untapped Philanthropy, which you can listen to now through the podcast link at the top of the post.
Untapped Philanthropy Episode 2: What does the future of family philanthropy look like in America?
In the second installment of Untapped Philanthropy, Kerrin Mitchell sits down with the President and CEO of the National Center for Family Philanthropy (NCFP), Nick Tedesco.
Before joining NCFP, Tedesco served for six years as the Senior Advisor in the J.P. Morgan Philanthropy Centre. Most notably, Tedesco was instrumental in launching the Giving Pledge – an effort led by Bill and Melinda Gates and Warren Buffett to encourage the world's wealthiest individuals and families to commit the majority of their wealth to philanthropy. As a Relationship Manager and Program Officer at the Bill & Melinda Gates Foundation, Nick connected global philanthropists (both current and prospective members of the Giving Pledge) with one another in order to encourage bold collaboration and philanthropic commitments.
His experience managing the elite mega-donors of our time, coupled with the resources he was afforded at J.P. Morgan Philanthropy Centre offered Nick a firsthand look at the disparity of resources afforded to large established funders and smaller family funders or newly formed corporate giving entities.
Therefore in this week's podcast episode, Nick and Kerrin examine his experience and dive into the lessons that family philanthropists can learn from big giving, in order to better understand what resources family funder must be equipped with in order to maximize their impact, ensure that long-term goals are met
while offering opportunities for growth in their giving strategies. Together they work to address the question: what does the future hold for family philanthropy? How best can these funders learn from and partner with one another?
You can learn about all of this and more through Nick's podcast episode link above.
You can subscribe to the Untapped Philanthropy podcast on Apple Podcasts, Stitcher, Spotify, and Google Podcasts. If you enjoyed episode two of Untapped Philanthropy, please take a moment to share our episode on social media so others may have the opportunity to learn about Nick's story.
Episodes of Untapped Philanthropy will be released once a month, and will always be shared via the Fluxx blog. We encourage you to subscribe to the Fluxx blog in order to stay up to date on new episode releases.
Click here for the full episode transcript.