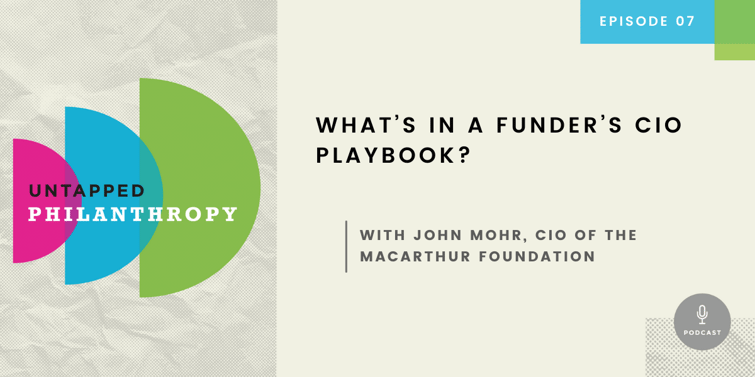 Philanthropy is chalked full of legacy institutions, historic processes, and more than its fair share of bureaucracy. So it's no surprise that the industry as a whole is considered to be a slow adopter of technology, even though improved SaaS processes are known to lead to sector growth. In fairness, the slow adoption often isn't due to the lack of interest, but rather a lack of funds. A nonprofit attempting to operate under an unrealistic overhead ratio isn't going to push for expensive new products and platforms, and neither will smaller funders.

But this isn't the case for industry giant, the MacArthur Foundation. The innovative Chicago funder and Fluxx client we know and love has spent years carving space for technologists to have a seat at the table so the Fund could in turn work as a collective to answer questions including: how can we improve the grantee process for all? How can we save our team time? And how can we leverage technology to solve the problems faced by our communities?

All of the above questions and much more are answered on this week's Untapped Philanthropy podcast as Fluxx co-founder Kerrin Mitchel sits down with a friend of the podcast and CIO of the MacArthur Foundation, John Mohr, to learn more about his role at MacArthur, his work toward a universal common application, and his advice for current and aspiring technologists and CIOs in philanthropy.

Untapped Philanthropy Episode 7: What's in a funder's CIO playbook?

John Mohr has served at the MacArthur Foundation for over nine years. But prior to making the leap into philanthropy, he spent 10 years at the University of Chicago managing the applications process – hence his passion for a Common Application for philanthropy. A long-time technologist (he even has some startup experience) Mohr understands the hiccups that philanthropy faces adopting new policies and practices, and the difficulties faced as a CIO at a large foundation.

In his interview, he delves into the differences between the old and new philanthropy guard – the MacKenzie Scott and Jack Dorsey approach to philanthropy versus your storied private family funder, the lack of accountability or urgency sometimes experienced in the industry, and how to push past old philanthropy tropes.

You've seen one foundation, you've seen them all...

Yes, this was told to John at one point early in his philanthropic career and something he concurs "maybe was true" at one point in our evolution, but is no longer the case. With more innovators entering the space and the COVID-19 pandemic accelerating initiatives and pushing technology adoptions that have paved the way for remote work and increased rapid response grantmaking, funders are experiencing growing pains and important wins.

All this work has changed the CIO playbook for John in fundamental ways (you'll have to give the episode a listen for more on that) and renewed his commitment to accelerating the adoption of a Common Application that eases grantee burden, NOW.

Click the link above to listen to John's Untapped Philanthropy episode and tell us what you think on Twitter!

Still, need to catch up on past episodes of Untapped Philanthropy? You can listen to last month's episode – How can we better serve the chronically under-resourced – featuring Head of Partnerships for dotOrg Technology, Leah Bernthal right from our blog, or on your favorite podcast listening apps including Apple, Spotify, and Google.

Episodes of Untapped Philanthropy are released once a month, and will always be shared via the Fluxx blog. We encourage you to subscribe to the Fluxx blog in order to stay up to date on new episode releases.
Link to transcript here.