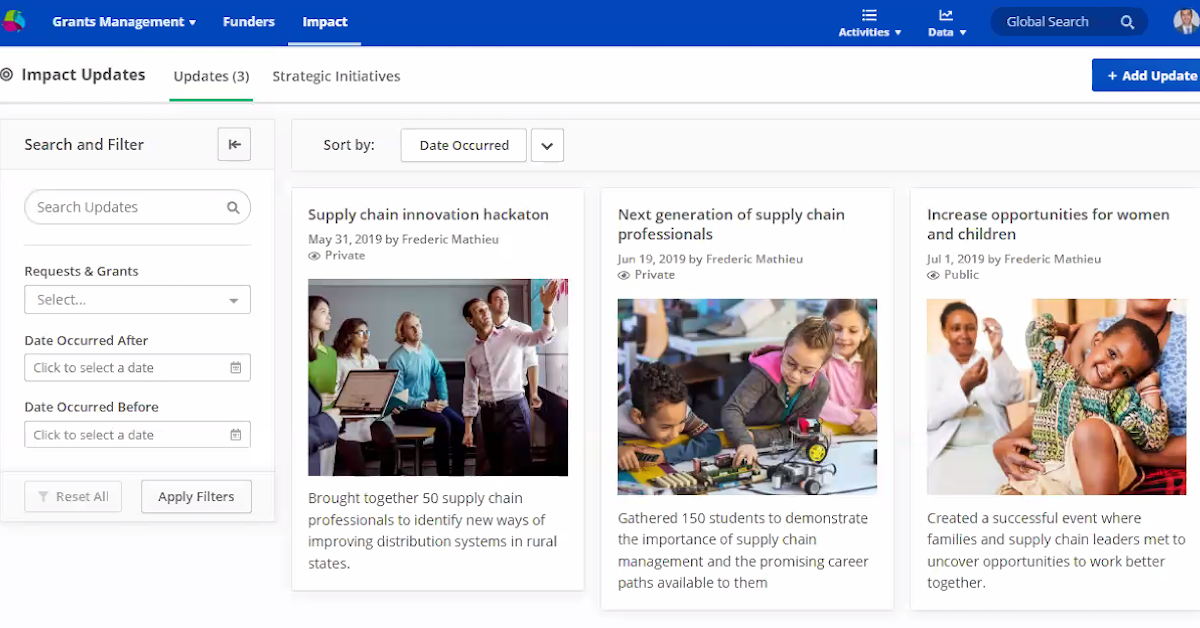 This week's blog is a guest post featuring philanthropy powerhouse, Sam Caplan! Sam is the CIO at the Walton Family Foundation. Please connect, share, and engage @samcaplan. Check out the brief Q&A below to get to know, Sam, and then keep reading to see his blog!
Q: What philanthropy topics do you like to write about?
A: I like writing about nonprofit technology, data, and impact, with a focus on how innovation and creativity can help redefine how we use technology for social good.
Q: What excites you about connecting different parts of the ecosystem?
A: I envision a connected philanthropic community where all participants are able to work together seamlessly and creatively. Our work will be strengthened and amplified when we find ways to function as a connected ecosystem, regardless of our individual roles and objectives.
Q: What inspired you to write about Grantseeker?
A: I've always admired Fluxx's commitment to the sector and to philanthropy, and its spirit of innovation. I think Grantseeker has amazing potential to bring together nonprofits, foundations, individual donors, corporations, and volunteers into a connected ecosystem where we can collectively work on society's greatest challenges. Nonprofits especially need help amplifying their work, their needs, and simplifying the process of finding supporters.
---
GUEST POST
Fluxx's Grantseeker app is still amazing and free, thanks to Pledge 1%
Two years ago Fluxx debuted Grantseeker, a web-based application for nonprofits to track and manage all of their grant-seeking activity. In an earlier blog post I raved about its usefulness, and envisioned a future where Grantseeker would play a huge role in helping nonprofits easily manage and modernize the process of applying for grants.
Fast-forwarding to last week, Fluxx hosted a webinar to show off Grantseeker again and demonstrate many cool new features it's developed over the past two years (great job, Jill Richards, CMO; Dan Schoenfeld, VP and Executive Director of the ASCM Foundation; and Dawn Melchiorre, COO at Forefront). I'll describe several of those new features, and I'll also expand on my vision of Grantseeker becoming the cornerstone for a vibrant social-good community of nonprofits, foundations, volunteers, corporations, and beneficiaries.
Before diving into Grantseeker's new features, let me start by applauding Fluxx for building and distributing a super cool application that is 100% free for nonprofits. There's no catch.
Organizations can track all of their grant data in the app regardless of the GMS used by their partners. Fluxx is committed to "Pledge 1%," a program established by Salesforce and adopted by many others, pledging to donate 1% of its time, product, and equity to social-good causes. Grantseeker is the result of Pledge 1%, and so far over 7000 nonprofits and 8000 total users are benefiting. Well done, Fluxx.
Two years ago Grantseeker debuted with a lot of useful functionality. A nonprofit can enter all of their grant applications and track important data such as project name, description, the foundation reviewing the application, key dates and deliverables, and the stage of each grant in its lifecycle. Project management features let users enter tasks, due dates, and owners. Most importantly, it gives nonprofits the ability to easily demonstrate the impact of their work through performance metrics, photos from events, videos of site visits, narratives from beneficiaries, and more. In other words, with GrantSeeker a nonprofit can report progress to funders, but also showcase the impact of their work to the whole community. It's a tool for storytelling as much as grants administration.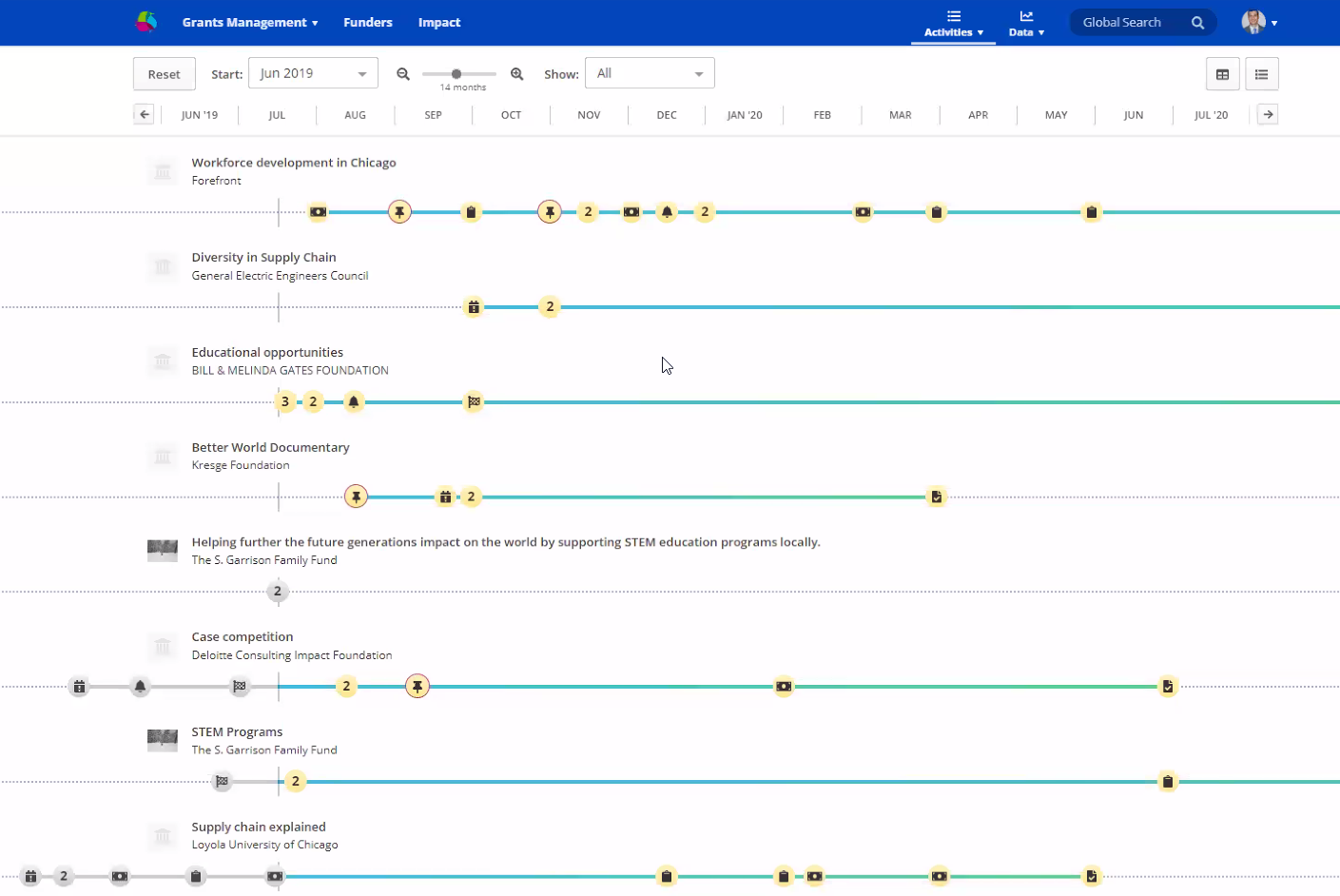 And since its debut, Fluxx has added several new features:
Colleagues and reviewers can be added to each grant
Integration and automation with Fluxx's GMS to simplify the application process
New data visualizations, including a Gantt-like view showing each grant in its lifecycle
Email notifications and reminders for upcoming tasks or due dates
Ability to store answers and unlimited documents for commonly asked grant questions
A rich user-dashboard showing upcoming tasks, deliverables, reports, and grant payments
And if you've ever submitted a grant through Fluxx you already know what to expect from their user interface - simple, modern, and intuitive.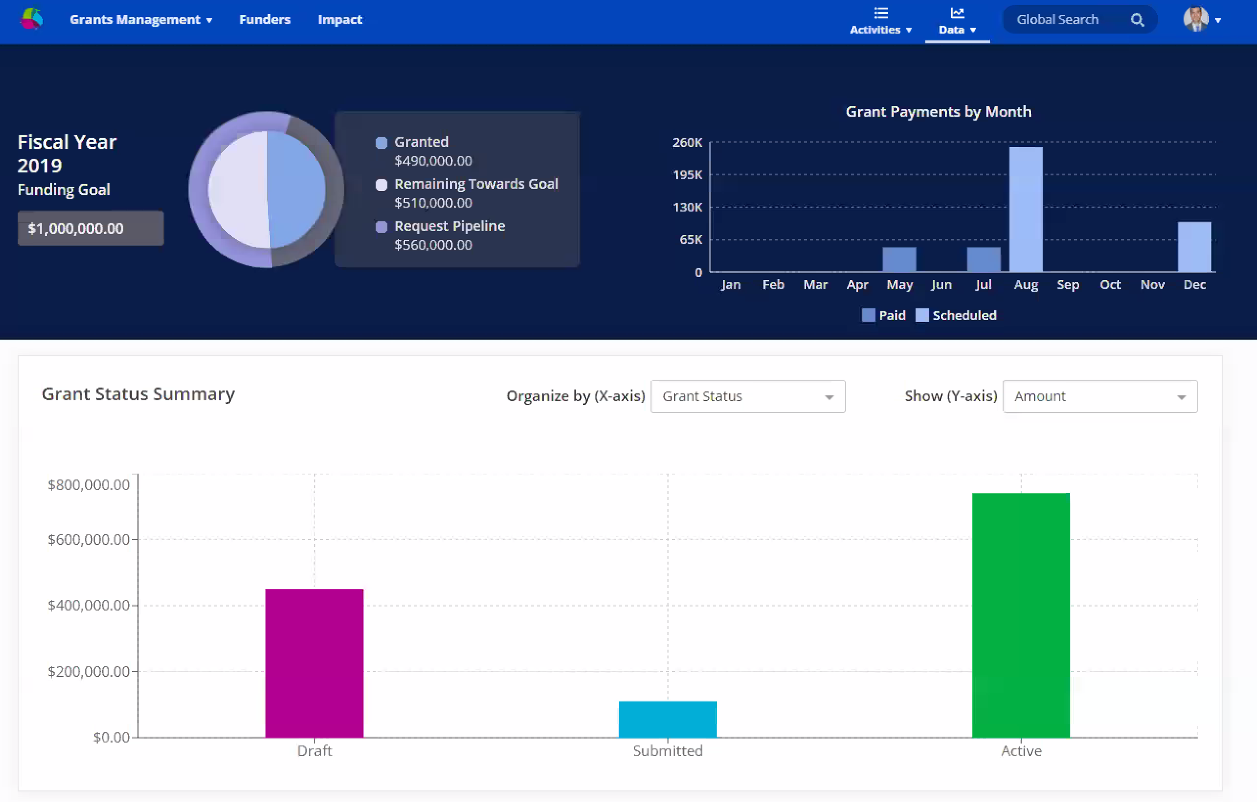 So with all of this functionality, what might be next for Fluxx and Grantseeker? Given that Grantseeker could easily be adopted by tens of thousands of nonprofits, I'd love to see it evolve into the cornerstone of a thriving nonprofit community, where foundations, nonprofits, NGO's, schools, corporations, and philanthropy serving organizations can easily communicate, collaborate on work, access shared data, discuss and develop ideas, and connect with one another:
Nonprofits, foundations, corporate CSR departments and others can use taxonomies and keywords to easily describe their work, mission, and focus areas. Artificial Intelligence can then match like-minded organizations based on funding opportunities, project needs, mission, and program areas.
Nonprofits can post project proposals and funding needs, with AI ensuring the most aligned funders see those needs. Foundations and corporations can then express interest in funding those projects in which they are most interested. Best case scenario, funders actually wind up bidding to work with a nonprofit. This flips upside down the current paradigm of nonprofits shopping their ideas to one funder at a time.
Foundations and corporations can easily discover projects and organizations to work with in their focus areas and local communities.
Members of the community can easily discover the work that both funders and nonprofits are doing locally. They can easily find volunteer opportunities that match their passion and interest, making it simpler to personally engage.
Because 'the community' is comprised of tens or hundreds of thousands of members, nonprofits can tell their story to a wider audience than is possible today. The community is both local and global, bringing us closer together to achieve awareness and empathy unbounded by borders or divisions.
We will all easily work together to establish common measures and ways of describing impact. Together, we will widely share the results of our work, our documentation and learnings, and establish an environment where it's easy to find and disseminate information and discuss results.
The community is open and social, with everyone having a voice and a means to participate. Technology will help foster discussion, leading to connections and collaboration.
Data trusts and other tools will allow thousands of participants to contribute to and share data within the community. We finally achieve an environment where we unlock our data and make it accessible to those who can use it to do more social good.
I think Grantseeker can help build and facilitate this nonprofit community, with new and more innovative ways to engage, to participate, to communicate, and to collaborate. Fluxx, let's do this!
---
Take the tour of Grantseeker or sign up for your free account.