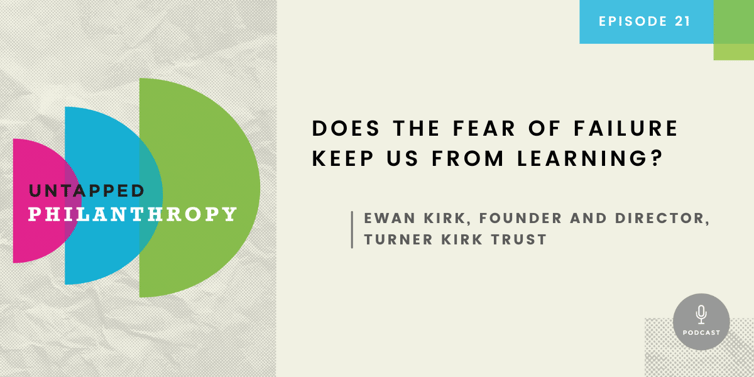 Most of us working in tech are familiar with the term 'fail fast.' It's a philosophy that values extensive testing and incremental development of an idea or process. Those who are told to fail fast are also instructed to cut losses the second testing reveals something isn't working, keep working, and pivot to a new idea.

The core belief is that if you're willing to fail, you are willing to learn. Why? Because, in many instances, we learn more from our failures than our successes. Startups have committed to this philosophy fully. This process has propelled many companies to unicorn status far faster than previous incumbents. But can the same concept apply to philanthropy — an industry rife with multi-year studies, detailed reporting, and methodical approaches?

Untapped Philanthropy Season 2, Episode 9: Does the fear of failure keep us from learning?

This week's Untapped Philanthropy episode features Founder and Director of the Turner Kirk Trust, Ewan Kirk, who certainly feels at home with the 'fail fast' mindset. Ewan holds a Ph.D. in general relativity, serves as the Chair of the Management Community for the Isaac Newton Institute for Mathematical Sciences, founded a venture capital fund, and once ran a systematic hedge fund that he shares was, "very quantitative and very geeky."

So when it came time to pivot to philanthropy and establish his "evidence-led, multi-million-pound family foundation that supports STEM, conservation, and early child development causes in the UK and developing world," Ewan knew he wanted to approach his work with the same appetite for testing and risk that he leveraged in his previous ventures.

Moonshot goals versus impact. Is there room for both?

Philanthropy is notoriously risk-averse. No grant writer can secure funding without clear goals and descriptions of what said grant will provide. Teams are expected to map out exactly where funding will go, what it will produce, and offer a quantifiable way to measure their work. If funding doesn't produce results, there is a high risk the grant won't be repeated. Experimentation may be pushed aside in the name of accomplishment, and failures may be downplayed or swept under the rug as organizations highlight their successes for eager donors. Most importantly, rarely is an organization encouraged to publish its failures and offer the lessons it learned as information for others.

Failure doesn't feel like an option. But many philanthropists like Ewan hope to see this change. Failure, after all, breeds experimentation and often teaches teams more about their work than a picture-perfect success story.

"One of the things that we have thought about a lot and are very keen on is the concept of permission to donate money to relatively high-risk projects, which potentially could have a very big impact. That's how experimentation works," said Ewan.

Ewan makes a point to approach each team he supports with a single question: what experiment would you do that might fail but also could revolutionize what you're doing? He's found a wide range of responses that have pushed him as a philanthropist and pushed teams to try new approaches.

"So physicists and scientists and conservationists and everyone, they go and try something, and it should be okay to fail. That gives you freedom," said Ewan.

"I think we're a bit stuck with this concept of impact. Somebody gives a billion dollars to a particular project, and they want to know its impact. They want to know that a number of people have been helped or cured of a particular disease, and it's all about the numbers. Of course, nobody wants to waste money and not impact things. But it does stop the philanthropic organizations from experimenting because they have to show results," said Ewan.

Unlike corporate dollars, philanthropy isn't meant to be an investment that pays back the giver with more quantifiable capital. It's meant to be spent altruistically to benefit our societies, our planet, and all its creatures. Most importantly, the goal should be to spend the money, not hold it back due to an unknown outcome. So why not spend it trying something new and taking a risk?

How do you balance the need for impact with the desire for experimentation? Is it even possible for philanthropy to adopt a 'fail fast' approach? We encourage you to share your thoughts with us on Twitter and join the conversation.

Catch up on last month's episode of Untapped Philanthropy — How can we implement trust-based philanthropy — featuring a conversation between Fluxx co-founder, Kerrin Mitchell, and Executive Director of Move 92, Geneva Pritchard, right from our blog or on your favorite podcast listening apps, including Apple, Spotify, and Google.

Episodes of Untapped Philanthropy are released monthly and always shared on the Fluxx blog. We encourage you to subscribe to the Fluxx blog to stay up to date on new episode releases and follow us on social media for podcast excerpts and more!
Download the transcript here.