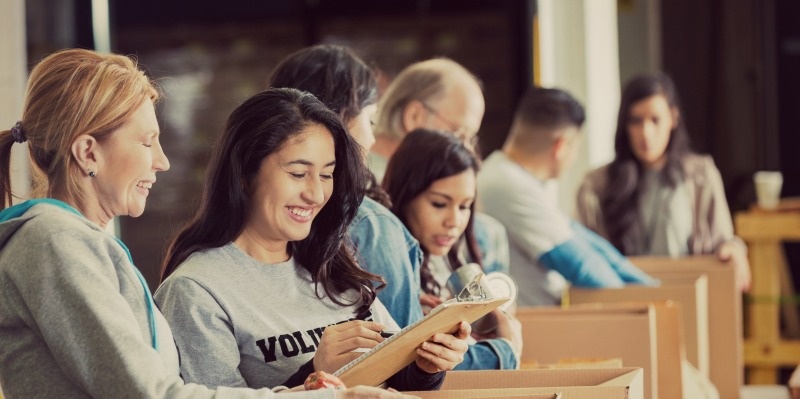 America is more generous than ever before, according to the 2016 Giving USA report. Specifically, corporate giving exceeded $18 billion, a 3.9 percent increase from 2014. And as giving continues to grow as a personal value, more people are seeking out employers that share the desire to give back. The question becomes, what corporate giving strategy is right for your company?
It's no secret that giving money, time, or valued resources as an organization and rallying employees behind a single cause can lead to greater impact. A strategic approach to corporate giving can make each individual's contribution more worthwhile and effective, as long as employees don't feel that their time or money is being "volunteered" for them.
The key is developing an approach that empowers employees while maintaining an effective corporate giving strategy. Here are 5 ways to inspire employee giving and engagement:
COMMUNICATE A UNIFIED CAUSE
As part of a coordinated company-wide strategy, it's important to articulate a unified cause. Align your social mission with your business mission. If there's a market for your products or services, then there's an opportunity to contribute to the betterment of society. It's a natural progression to expand your for-profit endeavors to a philanthropic cause.
PRIORITIZE EMPLOYEE BUY-IN
Listen to your people. Find out what they're passionate about. If you're going to ask people to give their time and money, they need to feel heard throughout the decision-making process. Consider surveying your workforce as an easy and effective way to gather insights and look for a common cause.
DO YOUR RESEARCH (SO EMPLOYEES DON'T HAVE TO)
Use philanthropic evaluator sites like Charity Navigator and Guidestar to make sure you contribute to effective organizations. Investigate each organization's history, transparency, accountability, and financial health. When you encourage engagement with a specific organization , it's best to know not just who they are and what they do, but also that they're a trustworthy organization in which your team can reliably invest in a long-term commitment.
CONSULT THE EXPERTS
Consider reaching out for expert help within the field or region in which you intend to give. Those who work within the community itself can fill you in on the needs and gaps in funding and properly align your expectations with appropriate outcomes. They can help your team set up realistic goals and offer support that will help meet those goals and accelerate your core mission.
BE AUTHENTIC
Corporate giving should build trust, not damage it. Transparency is just as important for corporate philanthropy as it is for the organizations you give to. You have to live up to the values you preach as a for-profit organization and as a giver.
People naturally want to give back to their communities and the world, and that's truer of employees today than ever before. With a strategic, intentional approach to corporate giving, you will not only empower your people, but also help ensure that their giving makes the greatest possible impact. For a deeper dive into this corporate giving strategy, read our complete white paper: Harnessing the Power of Strategy in Corporate Philanthropy.