What is Grants Management Software?
Grantmaking can be a complex and time consuming venture, even for relatively small or mid-sized funders (not to mention the foundations paying out grants in millions or even billions of dollars). Managing the entire process — including tracking scores of applications, reviewers, requirements, and payments simultaneously — takes serious planning, foresight, and a good grants management software solution.
Grants management software solutions help grantmakers tame their workflows and optimize their communications with applicants and grantees for the duration of the grant life cycle. Software can automate many of the administrative tasks associated with grantmaking, freeing staff to concentrate on strategy, relationships, and opportunities otherwise lost inside an unruly grantmaking process.
With recent developments in technology, the smart use of data has become a priority for forward-thinking grants management software vendors. Integrating grants management systems with external data from organizations like GuideStar and Foundation Center give grantmakers access to critical information they can use to put resources in the hands of grantees much more quickly than they could even five years ago.
Modern grants management software also allows organizations one-click access to their own grantmaking data (e.g., geographical, program area, funds awarded, and more), revealing insights that are revolutionizing the way philanthropy thinks about grantmaking.
As interfaces become easier to use and mobile technology becomes commonplace, foundation staff has quicker access to the data it needs — anytime, anywhere.
An Evolving Market
Each year, foundations and other grantmakers have benefited from more choices in grants management software than ever before. In fact, the entire grants management software market has grown 66 percent since 2013. In 2013, 3,573 grantmakers used a grants management system. Now, the number totals 5,413, according to Idealware's 2016 Consumers Guide to Grants Management Systems.
Grants management systems range in complexity and price. According to Idealware, "Small packages can support straightforward online application, review, and progress reporting processes for under $3,000 a year, while a specialty solution for a very large grantmaking organization can cost upward of $200,000 per year."
Another notable change since 2013 is the sizable growth in "outcomes tracking," according to Idealware's Executive Director, Karen Graham. As more foundations understand the importance of measuring their impact across the organization and the sector, the demand is rising for a tool that helps grantmakers make sense of their evaluation data and become more transparent.
Embracing Data Transparency and Collaboration
As sending and receiving information becomes faster, foundations — and pretty much everyone else — are learning that collaboration fosters excellence.
Philanthropic collaboration comes in many forms, from pooled funding to strategic alignment and everywhere in between. And each kind of collaboration differs in a variety of ways, according to the Bridgespan Group, "whether it is the flow of funds, decision-making, expectations and roles of funding partners, or legal structure."
Collaboration is most successful when people embrace a transparent mindset. Now, foundations can tap into data, analyze it, and utilize it to make progress on the issues that they care about. And that progress can be exponential when foundations share this data with the world.
Opening incoming and outgoing streams of programmatic, evaluation, and publicly available data gives foundations the ability to better collaborate, create communities focused on learning, and build trust and credibility.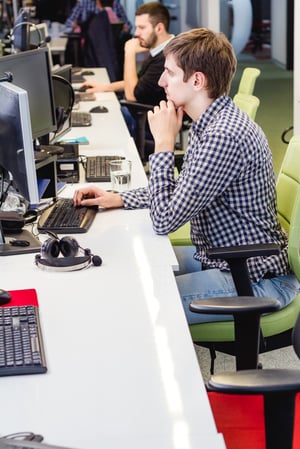 We're used to having information readily available at any time and any place — and we expect nothing less. Workplaces, the market, and our social circles are always becoming more collaborative and open. Why should philanthropy be any different?
Whatever the form, funder collaboration is essential in realizing "the kind of social impact that we all aspire to," says Larry McGill, Senior Vice President for Knowledge Services at the Foundation Center. And easy access to good data plays a critical role in effective collaboration.
The reliance on transparency and real-time connectedness that we see in the business and consumer environments today is informing how philanthropy works now and into the future. Combine these values with the rapid pace of technological advances — in grants management software and elsewhere — and it's possible to imagine an era where philanthropic dollars make unprecedented impact in a near frictionless grantmaking ecosystem.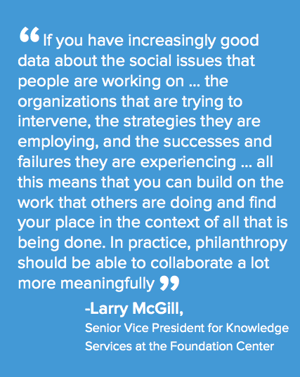 What Should Grants Management Software Provide?
Grants management software should provide so much more than a simple CRM, tracking features, or an online application. Grants management software has the ability to usher grantmakers into the future of grantmaking and help create more meaningful impact. Modern systems should allow and even encourage funders to be transparent, accessible, and ultimately more connected to their grantees.


Here are 15 critical items a grants management system should have:
Relationship Management

A robust CRM engine should allow you to connect all of your organization's data to the people and organizations that matter to you.

Grantee Access and Online Applications

A grantee portal provides a one-stop shop for grantees to manage all interactions with your foundation.

Reviewer Access

Reviewers should have easy access to the review process and be able to see what action needs to be taken at a glance.

Real-Time Updates

As new data streams in, your whole team should be updated with real-time notifications. Alerts can prompt actions across multiple teams and should be visible across all platforms — desktop, tablet, and mobile. Program officers, grants managers, and the rest of your grantmaking operation can be confident that they're informed and that their actions are timely.

Automated Workflows

Automated workflows can streamline the entire grant life cycle, from initial request through grant approval and reporting. Your grants management system should help you create workflows that feel simple, linear, and fast, allowing you to focus on grantgiving — not paper-pushing.

Connected Data

For many grantmakers, data is funneled to multiple spreadsheets and databases. Data streams should be united into one system, enabling data visibility and new insights into your grantmaking.

Reporting

Powerful reporting features simplify the creation of complex data analysis with effective visualizations, live reports, and ad hoc queries. Users can generate visual charts, graphs, maps, and "mash-up" data with external feeds.

Functional User Interfaces

An intuitive user interface allows everyone in the organization to interact easily with all the data they need, giving each team member the perspective, understanding, and tools to leverage the power of data.

Integrations

You'll want the ability to pull in data feeds from third-party applications. For example, you might want to integrate with your financial systems, your CRM, or GuideStar data for 501(c)(3) status checks or check-ins from the Office of Foreign Assets Control.

Budget and Finance

Budgeting tools allow your organization to track funds from the allocation of resources to the actual payment of the funds. Because everything can be displayed in real time, you can see what's in the pipeline and what's available to spend.

Universal Search

Universal search enables users to search records across the database, retrieve content, and preview documents.

Mobility

iPad, iPhone, and Android users should have access to their grants management systems at all times. Photo and text notes could be added directly to records, making the iPad app perfect for site visits.

Document Generation

Documents can be generated at will or triggered to appear at a certain workflow step. Letters can be used for internal or external documentation and can be written to fill a variety of needs custom to your organization.

Audit Trails

It's critical that you have the ability to see changes made to the profile, request, or grant since its inception, ensuring you never lose the revision history.

Email Alerts

To ensure you never miss an important update, you'll want to be able to pre-configure your system to send email alerts triggered by the status of a specific record or by certain dates or deadlines.
Do You Need A Grants Management System?
If you're still tracking grants using Excel spreadsheets, you need a dedicated grants management system. If you're using a homegrown solution or a legacy system that hasn't been updated in a few years, it's time to look at modern solutions. Grants management is complicated. Even relatively small grantmakers will find a system useful. Often, grants require multiple reviewers, multiple payouts, and follow-up progress reporting.
Grantmakers want to be able to access reports that show how well (or not) their grantmaking investments are performing. It's clear that the management and activity needed to successfully administer even a single grant — and ultimately create impact — is no small job. When you decide to implement a new system, remember: Technology doesn't solve all your problems, but it can make your job a heck of a lot easier, and you'll ultimately make a greater impact by implementing smart technology.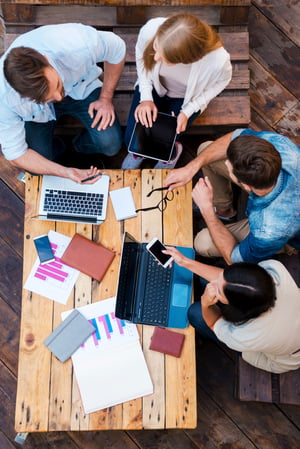 When you decide to implement a new system, remember: Technology doesn't solve all your problems, but it can make your job a heck of a lot easier and you'll ultimately be able to make a greater impact by implementing smart technology. Choose the grants management system that's right for you based on your requirements, not someone else's. Test drive it. Get a feel for it. It should look nice and be easy to use. Talk to foundations using the software to get a feel for how it has helped them and what the set-up process is like. And, of course, we're here to help. Reach out to us here.
Fluxx has a mind for technology and a heart for philanthropy. Our vision and innovation are propelled by a deep commitment to transform the grant process and spark lasting good. Fluxx's cloud-based products are differentiated by a unique, intuitive user interface that makes the collaboration, clarity, and organization of data effortless. Large and small foundations, nonprofits, government agencies, and corporations are dramatically shortening their grant cycles and making more strategic decisions with Fluxx. Until there's no further need for philanthropy, we'll continue to expand our mission-critical solutions to drive real change.