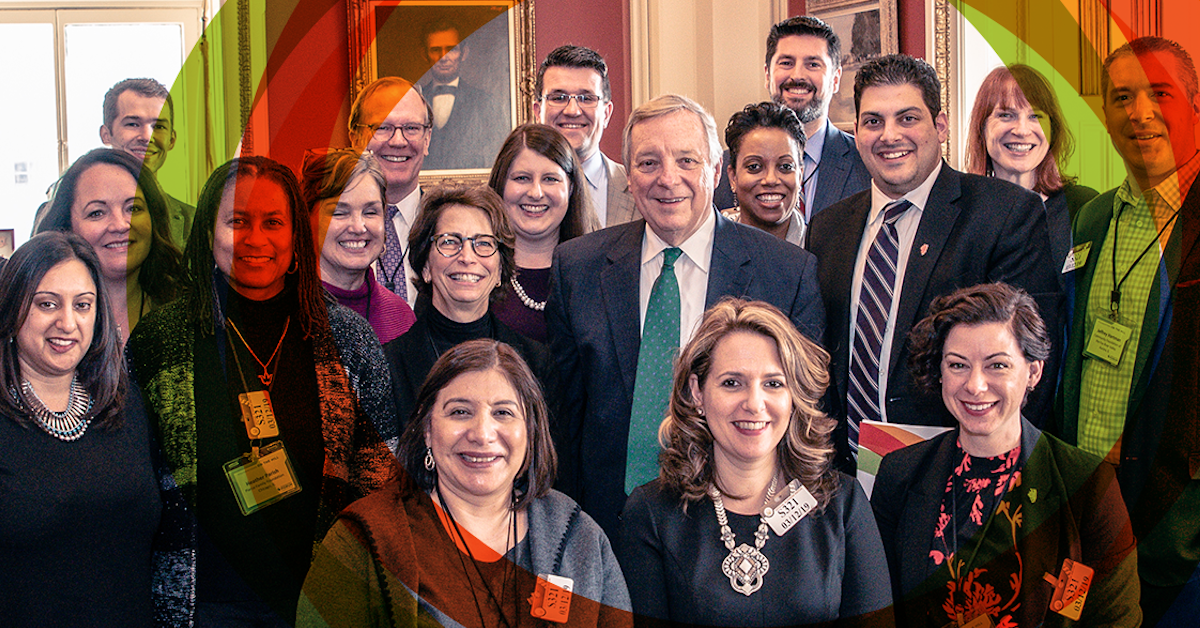 Next year is fast approaching and with it, some major political and social movements. In the same year, U.S. citizens will hit the polls to choose our next president we will all be asked to opt into the 24th census. Even without it being an election year, the census would have been politically charged. We all remember the controversy and back and forth that ensued when the administration tried to slip a citizenship question into the census.
The citizenship question was ultimately struck down by the Supreme Court, but not without lingering confusion – the Census Bureau continues to ask about citizenship on other forms and on the American Community Survey (ACS). This combined with the current administration's hostile stance on immigration has resulted in a tense climate for gathering an accurate count of our country's people. Millions of people may be wary of filling out official government surveys, meaning countless communities risk missing out on proper funding and representation for the next 10 years.
2020 will also be the first time that the census will be online, so there's worry about cyberattacks on our data. And, some states don't even have funding set aside to ensure that their constituents get counted, and we all remember the controversy and back and forth that ensued when the administration tried to slip a citizenship question into the census.
Thankfully, as cities and states prepare their census awareness and education campaigns, philanthropy is also gearing up to drive awareness for the census in the hopes of ensuring that communities receive a fair and accurate count. True collaboration combined with a data-driven focus on impact and output – from funders, grantees, and volunteers – is the only way to accomplish such a monumental task. This dedicated collaboration is what's making Forefront's census outreach – Illinois' statewide association representing both grantmakers and nonprofits, as well as their advisors and allies – and their Democracy Initiative so successful.
Democracy Initiative Launches Two Programs For 2020
The Democracy Initiative (DI) at Forefront was founded to "enlist, educate, and train hundreds of nonprofit leaders and legislators across Illinois to encourage their constituents to participate in the 2020 Census, register and turn out to vote, and remain civically engaged. It consists of two main initiatives: Civic engagement and Census 2020 outreach."
The Initiative relies on a vast network of nonprofit organizations, grantmakers, and boots-on-the-ground grantees to make its advocacy work possible. The Democracy Initiative created two grant programs, ILVote to boost civic engagement and IL Count Me In to gather Census 2020 funding. To efficiently fund and support their communities, the team at Forefront, acts as the central hub and funder for these extensive statewide initiatives and is using two Fluxx products to manage key aspects of the Democracy Initiative. Fluxx Grantmaker streamlines the giving and tracking of grants to nonprofits organizing communities. Fluxx Grantseeker is a free tool that Forefront promotes to nonprofits to help them manage the grants they receive.
The IL Count Me In 2020 program began in early 2018. The program consists of two major statewide tables, a statewide nonprofit advocacy coalition with over 40 organizations, and a funders' collaborative that's 22 funders strong.
"Prior to using Fluxx Grantmaker our work was spread out among spreadsheets, email, and other documents," said Zoe Magierek, Manager of Knowledge Services at Forefront. "Now everything is centralized and it's so easy to pull accurate reports," she concluded.
Before founding the Democracy Initiative, Forefront's policy team had 10 grantees for their voter engagement program. Once the Democracy Initiative launched in early 2018, the team granted to 20 nonprofit organizations for their newly named ILVote program. By 2019, the Democracy Initiative doubled grantees to 42 organizations for the IL Count Me In 2020 program. "The scalability and flexibility of the platform is really nice. I love being able to pop back into the portal and pick up right where I left off, even as our programs grow" said Magierek.
As 2019 comes to close the team looks forward to seeing the fruits of their grantmaking grow in 2020. "We have so much important work to do to ensure that all people of Illinois are represented in the 2020 Census," said Yoselyn Ovalle, Associate Manager of Democracy Initiative. "Fluxx Grantmaker has made it easier for us to put grants into the hands of those who need it most, and we look forward to putting that money to use and growing civic engagement in Illinois," said Ovalle.