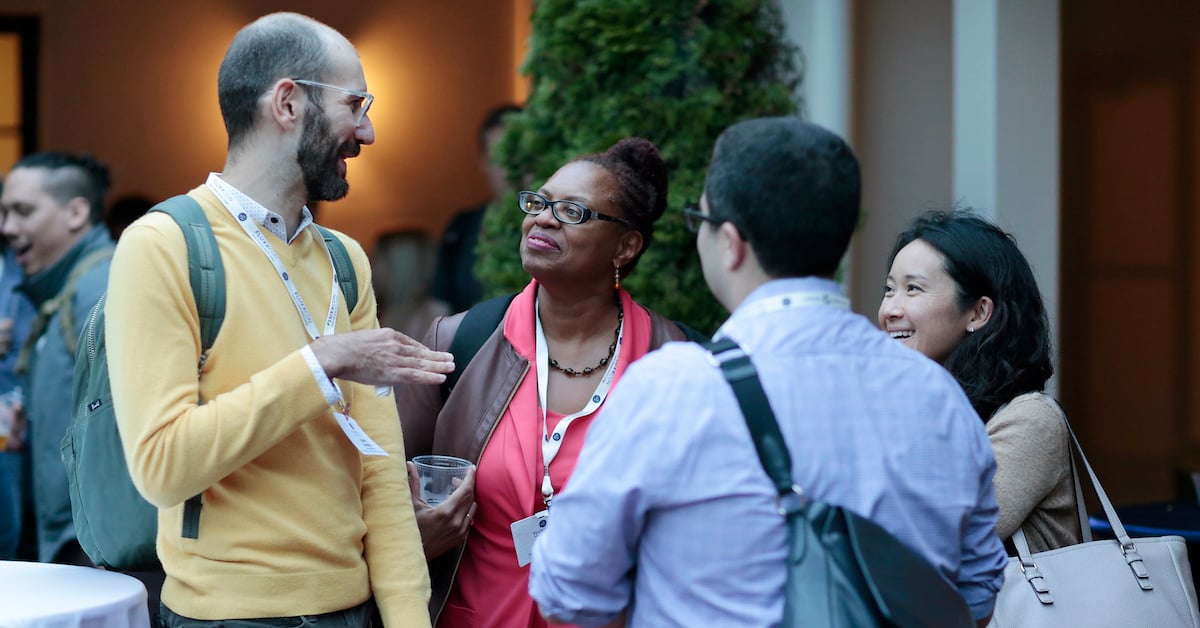 Many of you know all about it but for those of you who don't, I'd like to introduce you to a fantastic asset for Fluxx Grantmaker clients… the Fluxx Grantmaker Community. The community is an online resource where Fluxx Grantmaker users can interact and share, explore ideas, learn best practices and more from one another. The Grantmaker Community is an important part of our commitment to building not just great grants management solutions, but also a community of philanthropists that connect with and learn from each other on multiple levels.
"The Community is one of my favorite things about Fluxx. You will find all levels of users who share all kinds of innovative ideas. When we first started on Fluxx, the community is where I found so many great ideas to enhance how we built out Fluxx for our users," Deb McBride, Tech Support at the Caring for Colorado Foundation.
What to Expect When You Join
Community membership is free for Fluxx Grantmaker users and we highly encourage you to connect to this engaged and growing network of newbies and super users. Once you join you can expect to instantly gain access to a wealth of user experiences, tips and tricks from other Fluxxers, and countless users with different levels of technical aptitude and varying skills. We built this site as both a resource for Fluxx clients and as a part of the philanthropy network driving giving and impact in the real world. Those who join often share practical and creative solutions they've implemented at their organizations, pose thought-provoking questions to the community and receive direct help from Fluxx users and community managers.
What Types of Users Are Active Members
You can expect to find hundreds of grant administrators, grants managers, assistants, analysts, associate directors, program managers, program officers, and even C-suite executives, including CFOs, CEOs, and COOs active on the Fluxx Grantmaker Community site. Members belong to hundreds of different foundations bringing a helpful diversity of experience and knowledge from one program admin to another.
Why Networking Tools Matter
This robust community site is an important networking tool that will help you connect with other funders and foundations worldwide. Smaller foundations have access to insights from larger organizations who have been users of Fluxx Grantmaker for many years. Foundations with less robust technical teams are invited to learn from others, while foundations and teams with advanced technical prowess often share their knowledge.
Collaborating Within Your Local Area
Many members find it helpful and fun to meet other funders in their region. We encourage meetups by setting up user groups around the world. Check our events page for a full list of our upcoming user groups. But there's no need to wait for a user group to come to a city near you. Members often schedule their own meetups to discuss how they can combine the forces of their Trusts to become more efficient in their region or area of focus, or they swap ideas about how they can leverage the Grantmaker platform to improve lives in their communities. We consider all Fluxx clients to be partners and want you to feel connected to Fluxx and others on the platform. That's why we love to see these live meetups happening, and we try to host them as often as we can ourselves. We're here to share and grow with you.
Building Solutions Together
Believe it or not, the Fluxx Grantmaker Community site is one of the first places we look when the product team is looking to define our roadmap. We invite all members to submit feature and product ideas which are then voted on by the community. Our Product team also hosts quarterly webinars where we discuss the top voted requests, and review how they may be added to the roadmap.
We take our inspiration from our customers, and we take your feedback seriously. When improvements are needed, they're noted and made. We constantly survey conversations on the site to assess what new integrations and features should be added. Where we find customers asking for the same thing, we work internally to see when this capability could be implemented.
So if you're a current Fluxx Grantmaker client and you haven't logged into the community site, be sure to set up an account today!
If you have more questions about the Fluxx Grantmaker Community and want to learn more about what it means to be part of building the go-to platform in philanthropy, reach out anytime. We're here to help.