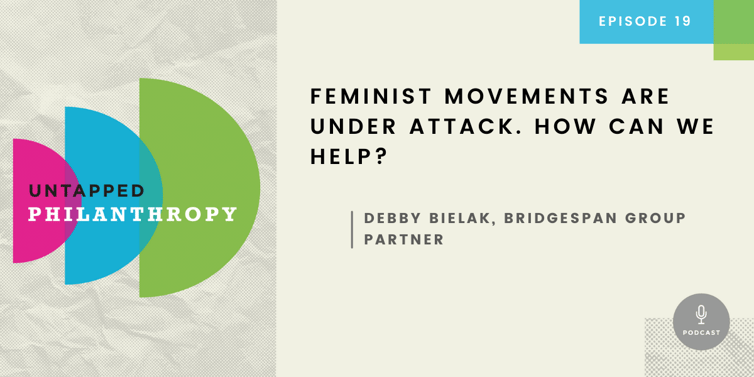 Feminist movements are under immense pressure. On June 24th, the U.S. Supreme Court overturned Roe v. Wade, ending the right to an abortion that had been upheld for decades.
Many advocates and feminist leaders weren't surprised by the decision and have warned that additional restrictive policies and laws will likely be passed. These restrictive laws threatening the health and safety of birthing people correspond with a spike in misogynistic content distributed across TikTok and other social platforms. The superior algorithms of these platforms compiled with a younger, more digitally savvy audience has made it possible for these videos to spread (billions of views within days) at an alarmingly fast rate.

But this rise in hateful vitriol has led to pushback and progress as well. Self-proclaimed misogynist Andrew Tate was recently banned from Meta platforms, Twitter, and TikTok. Scotland became the first country to offer feminine sanitary products for free nationwide. According to NPR, "New Zealand and Kenya distribute products for free in public schools" as well.

At the center of this ideological push and pull is the feminist movement — an alarmingly under-resourced sector of our philanthropic community. Despite receiving only 1% of gender-focused international aid and 1% of total foundation giving, feminist organizations have managed to provide protection and shelter for thousands of domestic abuse victims, help women purchase and cultivate land for farming, and provide millions of women and girls with an education — which in turn raises their earning potential drastically. And this is just a fraction of what women's rights organizations have accomplished on a shoestring budget. One survey of 4,000 women's rights organizations found their employees had a median income of $30,000.

Untapped Philanthropy Season 2, Episode 7: Feminist movements are under attack. How can we help?

The Untapped Philanthropy podcast welcomes Bridgespan Group Partner and social activist Debby Bielak, to this week's episode. Debby joins the podcast to provide an in-depth look at her latest research and report, Lighting the Way: A Report for Philanthropy on the Power and Promise of Feminist Movements, produced in partnership with Shake the Table.

The report advocates that funders and philanthropists commit to giving $6 billion to feminist movements and organizations by 2026. Research has shown that not only can these organizations absorb the funds, but the implications and the long-term impact of this work is monumental: economies will grow when all women are educated and can own land and businesses, and more money will be re-invested into family units (listen to the podcast to learn why), and the overall health and safety for all genders and age groups would improve.

"[Feminist movements] are powerhouses. They've been the forces behind wins for gender equity and other issues, ranging from democracy to the environment. And yet they've been starved for resources historically," said Debby. Yet feminist movements and organizations act as rising tides, lifting all boats in their wake.

"Feminist movements focus on power and rights. They use intersectional analysis and they are intersectional in nature. They are constituency-led, they operate as collectives, they operate with care, and they work on multiple time horizons," said Debby.

Click the link above to listen to Debby's Untapped Philanthropy episode, and tell us what you think on Twitter.

Do you still need to catch up on episodes of Untapped Philanthropy? You can listen to last month's episode — What can we do to Fix the Form — featuring a conversation between Fluxx co-founder, Kerrin Mitchell, and Kari Aanestad, the Co-Director of GrantAdvisor.org and the Associate Director at the Minnesota Council of Nonprofits, right from our blog or on your favorite podcast listening apps including Apple, Spotify, and Google.

Episodes of Untapped Philanthropy are released monthly and will always be shared via the Fluxx blog. We encourage you to subscribe to the Fluxx blog in order to stay up to date on new episode releases.
Download the transcript here.