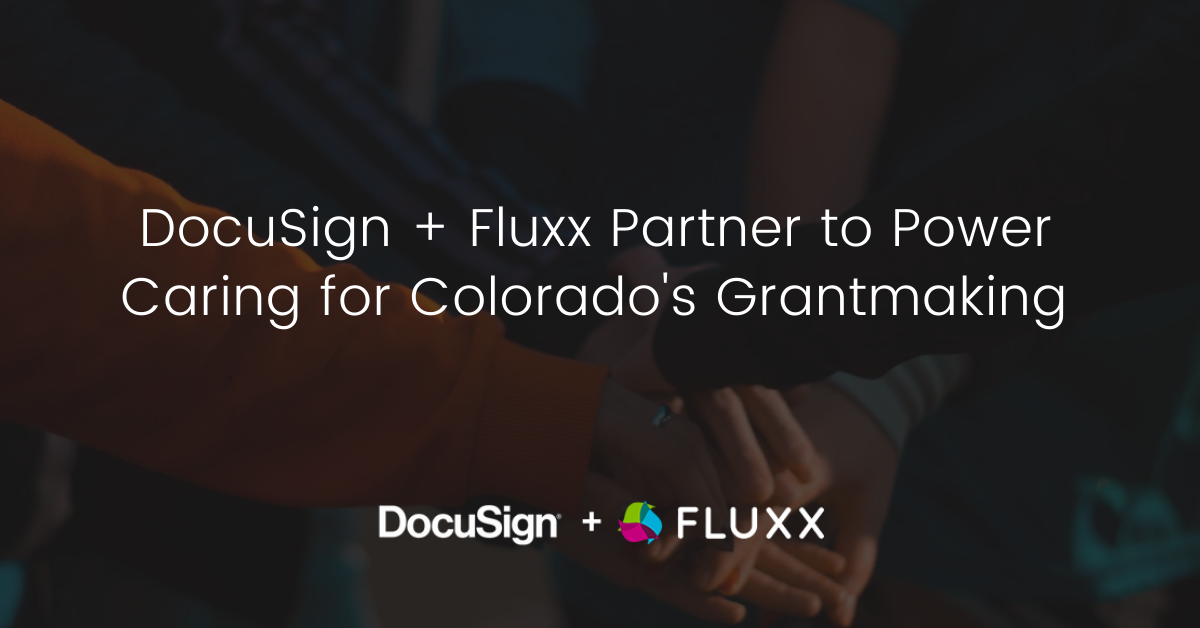 They say two heads are better than one, and that's certainly true when it comes to grants management systems and integrations! That's why our May 2020 webinar is all about a key integration we're really excited to tell you more about – Fluxx Grantmaker and DocuSign.
The Fluxx-DocuSign integration enables organizations to create, deliver, and manage signatures on grant agreements, letters, and documents through an automated signature process complete with instant notifications. Together, Fluxx and DocuSign can better serve our social sector by providing clients with a secure, convenient, and user-friendly way to manage the high-volume and high-impact tasks of grants management.
You will see this integration in action in our webinar, as well as learn from Deb McBride from the Caring for Colorado Foundation who will share how she and her team streamlined their grantmaking, eliminated paper waste, and saved themselves countless hours of work with Fluxx Grantmaker and DocuSign.
The Caring for Colorado Story
Caring for Colorado selected Fluxx as their grants management provider because they needed a platform that was flexible, would reduce employee burden, and allow for necessary integrations. The team chose to enable the Fluxx-DocuSign integration because it would enable them to securely and digitally manage their contracts (saving their team paper and shipping costs) and collectively save both their grantees, program officers, and admins time!
Ultimately a single Caring for Colorado administrator saves over 100 hours each year just by skipping the traditional labor-intensive printing, signing, and mailing process of the grant contract. The team is also proud to pursue a more environmentally friendly integration that saves 1,920 sheets of paper each year.
In regards to the team's COVID-19 response, Deb is proud to report that this integration has enabled the team to quickly add grant requests in Fluxx and experience an even quicker way to sign and process those requests into funded grants. Over half the team's COVID-19 related grant requests were created, signed, and had funding processed within one week.
To learn more about how the Fluxx/DocuSign integration benefitted Caring for Colorado and to see a demo of the integration in action, watch our webinar!