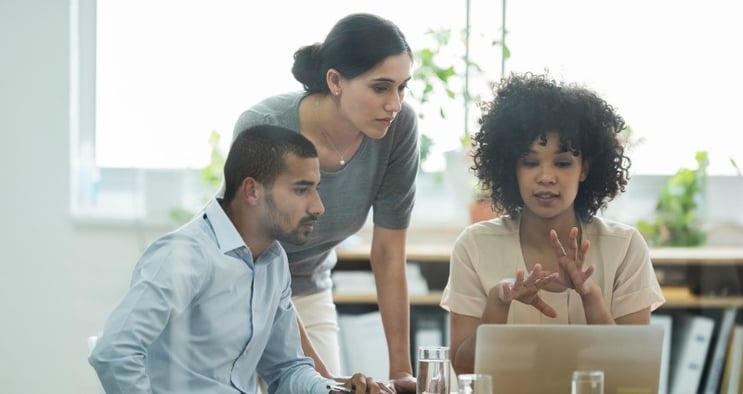 Whether you're a brand new nonprofit or your development team is growing fast, the pressures of grant writing mean development staff members nearly always feel the pinch of their deadlines.
By establishing best practices for proposal writing, you'll not only improve the success rate of your grant proposals, but you'll also establish teamwork norms that positively impact your entire staff. Think better prospecting, healthier relationships with donors and board members, and open communication between program and development staff. (Sounds nice, right?)
Follow these actionable steps to start writing killer grant proposals, forging stronger relationships with grantmakers, and funding your nonprofit programs:
Step 1: Do Your Homework
Understanding your prospective funder's priorities: Grantmakers often have very narrow funding interests by design – they want to fund projects and organizations that support their mission. Apply only for grantmaking opportunities where you're truly a good fit, and make it clear that you understand the grantmaker's priorities in your proposal. You have to convince them that your project is not only worth funding, but also worth their funding, in particular.
Leveraging relationships: Grant proposals don't start on paper. From the connections of your board members to your rapport with the program officer, your grant proposal starts with people. Developing these relationships takes time, so think of each contact as an investment that will appreciate. The first grant cycle you communicate with a program officer at a new foundation might not pan out – but each time you touch base, you're helping the program officer become a better advocate for you and your organization.
Communicating with your program staff: Forging a communication pipeline between your nonprofit's development staff and its program staff is key to understanding the program details crucial to your proposal, from implementation to assessment. Each nonprofit handles this communication pipeline differently. It might be your job to communicate directly with a Program Director, or maybe that relationship exists between your Development Director and your Executive Director. Whatever the pipeline looks like at your organization, build in time to learn about all the details for the proposed projects from program staff, in order to incorporate their feedback during the grant writing process. After all, they're the staff members who will actually have to carry out the project you're trying to fund!

Step 2: Communicate Your Value
Nailing the project description: The project description covers a lot of ground in a compressed space, and your funders will be looking for clear, specific details. Explain what your project is, the need it fulfills, and how this project fits into your funder's existing priorities in clear terms. If it helps, you can think of this as a proposal summary – one that captures the attention of your audience and impresses the importance of your work for the public.
Describing community need: Nonprofits exist to fill gaps in their communities. Develop a compelling story about how your specific project addresses a particular need for the population you serve. Why does the need exist in the first place? Why are you the organization that can solve this problem?
Clarifying your budget: One of the biggest mistakes you can make as a grant writer is to skate through your budget description. This section is a great opportunity to showcase your buy-in from other funders or community organizations, from financial commitments to in-kind donations. Funders want to support projects other key decision makers find worthwhile.
Incorporating story: So many grant proposals are cut and dry that funders take notice when a proposal is actually interesting to read. Once you've hit all the items on your proposal checklist, try incorporating storytelling elements, including participant quotes or feedback from community partners. What kind of stories do your programs tell?
Step 3: Create Your Benchmarks for Success
Identifying goals and metrics: Program goals must be specific and measurable, and you'll need a way to collect data that shows you've attempted to hit your benchmarks. Demographic information, program completion rates, and changes in program success rates over time are just a few data points to consider tracking. If you have it, use past data from your programs to determine what a reasonable benchmark for success might be during the current grant cycle. Can you improve over last year? If there's no room for growth, why is that?
Thinking ahead about reporting: Many funders specify criteria for metrics in the proposal itself or on their website. Especially if you're new to assessment, browse your prospective funder's site for more information on their reporting requirements. What kind of information do they require grantees to report on? Are these requirements you'll be able to meet – and provide evidence that you have?
Generating and incorporating feedback: When it comes to goals and metrics, sometimes there can be a disconnect between leadership and program staff – or between program staff and development staff. Make sure your team has guidelines set in place for program staff to weigh in on assessment and feasibility, so you feel confident about the assessment model in your proposal.
Step 4: Track Your Grant Proposal's Progress
Meeting your deadlines: Once you submit your proposal, you're not necessarily finished with your grant. Mark down any follow-up deadlines, including revision deadlines, reporting, and key assessment or program dates. A system like Grantseeker https://grantseeker.fluxx.io/ is a great place to organize all of your activities and seamlessly manage your relationships between you and your funders.
Preparing for questions and revisions: Sometimes a foundation has questions about what you're up to, including project feasibility, timeline, goals, or budget. Often it's a good sign when a funder reaches out and asks you to clarify or revise your proposal. Make sure you have a plan in place with your development team about how you'll address funder questions during the revision process.
Receiving feedback from the foundation: If your proposal wasn't funded during this grant cycle, program officers can provide information about the foundation's line of thinking and the applicant pool. They may even have specific comments about how you can strengthen your proposal for the next cycle. Don't be afraid of reaching out to request feedback. As long as you're positive, these calls can give you crucial insight.
Following up with key players: No matter how far your grant proposal makes it in the application process, always send thank you notes to everyone who took a meeting with you. That includes board members, program officers, and key decision makers or community partners. If you hosted a site visit during or prior to the grant cycle, this step is even more important. Remember: your proposal starts with other people - a handwritten thank you note goes a long way in demonstrating you appreciate the relationship.
By aligning your grant writing with industry best practices, you set your entire team up for success. And when your nonprofit has a successful grant writing operation, you fuel programs that make a lasting impact on your community. As any grant writer knows, this is an incredibly rewarding cycle to experience first-hand. For more information about tools that can help you become a better grant writer, please visit https://grantseeker.fluxx.io/.
Kristen Evans is a content strategist and critic with a background in nonprofit development. A former grant writer for 826 Boston, she's also written about publishing, television, and feminism for Brooklyn Magazine, The Los Angeles Times, LA Weekly, and NYLON, among other outlets.