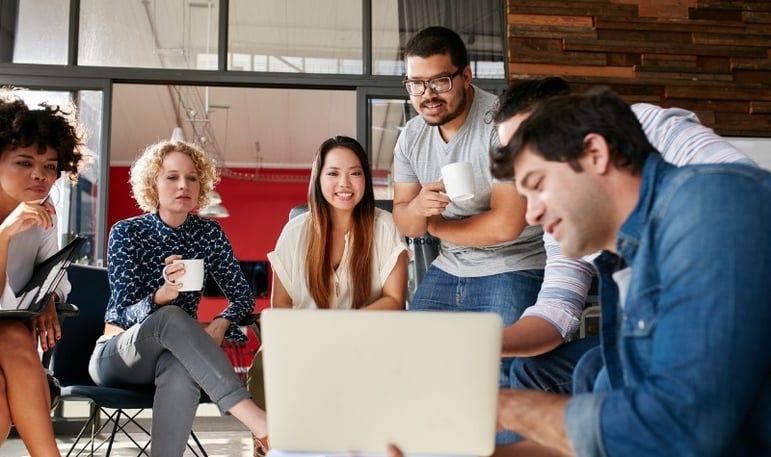 Despite budget constraints, investing in multimedia storytelling is more important than ever for nonprofit success – and we can help you make the case for allocating more resources to communications strategies that work.
Professional and in-house video, photography, and print campaigns make it easier to share your organization's successes, inspiring both funders and individual donors to give. Multimedia storytelling assets can also be a critical component in convincing key investors – including major foundations – that your programs make a demonstrable impact on your community.
With a few small and savvy investments, you can improve your relationships with funders, increase your online audience, and develop meaningful collaborations with program participants, community members, and more. And here's why that matters:
1. We Remember Stories – Not Numbers
Whether you're trying to communicate to individual donors or a major foundation, the data is clear: we remember stories, not numbers.
According to Fast Company, 40 percent of people respond better to visual information than plain text, and 65 percent of people consider themselves visual learners. But this isn't just marketing mumbo jumbo. In the nonprofit world, the power of visual information should translate into all kinds of storytelling about your programs.
Telling the story of second-generation immigrant children who attend your after-school literacy program, for example, will capture someone's attention much more quickly and effectively than impact data about grade improvement. That makes a well-produced, two-minute video on your website, or a strategically placed parent testimonial in a funder report, a powerful asset for explaining the significance of your program.
Just as numbers don't tell the whole story, your story will mean more if you have the data to back it up. Stories resonate emotionally with readers and listeners, but data helps make the case that something must be done to solve the problem.
As Molly Martin, operations and learning officer for the Lumina Foundation for Education, reminds readers at the Center for Effective Philanthropy blog, "Emotional anecdotes are calls to react … not calls to action."
Whether you're reporting to a funder on how their grant dollars were spent or hosting a fundraiser, pair qualitative results, like testimonials and interviews, with outcomes data, to make the strongest possible case for the transformative impact of your programs.
2. You'll Stand Out from the Crowd
Without strong communications and marketing efforts, a nonprofit can miss important opportunities to drive home the significance of their work, says Rick Moyers, the vice president of programs and communications for the Meyer Foundation.
"Program officers typically look at a nonprofit's communications, then visit the organization and see the work they are actually doing," Moyers told Exponent Philanthropy.
"There's often a moment when we realize their written materials don't convey the power of the work they do. They are strapped for resources, and communications is often the lowest priority," he added.
Since program staff at major foundations often manage portfolios of 40 or more grantees, storytelling will help your program officer better remember your organization, deeply understand the impact you make, and become a stronger advocate for your work. You'll be able to engage with your funder in a deeper way, setting the scene for a more collaborative, impactful relationship.
3. Storytelling Spreads
While a strong multimedia storytelling strategy benefits your organization by helping others to understand your work, funders benefit from your storytelling, too.
Program officers need ways to communicate the success of their grantees and make the case for continued funding. Storytelling assets become powerful reporting tools that demonstrate program health and progress toward outcomes. For example, a typical grant report might include reflection and outcomes data, but including additional assets – like videos or photographs – helps tell the story of your organization and its actual impact on your community in a meaningful and effective way.
Foundations must also communicate why their giving strategy is successful, important, or impactful to the outside world, and your stories can help them achieve these goals.
As Elaine Gast Fawcett recommends at Exponent Philanthropy, work collaboratively with foundation staff around important or newsworthy developments in your funded programs. How can your storytelling efforts be mutually beneficial for you and your funder? What resources might they help you allocate toward sharing your story within your community? What press contacts do they have to help you get the word out?
Maximize Multimedia Storytelling on a Small Budget
Don't get down about your nonprofit communications budget – get creative. Here's how you can your small budget can go the distance:

Brush up on storytelling strategy.

Know

what story you want to tell

– and how it will look on each of your digital platforms, or in print.

Use what you have.

Your existing website, social media channels, and email marketing are all important ways to share story (at little to no cost to you). And, if you're not already, always

always

use powerful images on social media

to make your content sharable.

Develop community partners

.

If you live in a city, chances are an up-and-coming agency or talented individual will want to do pro-bono or sliding scale work because they connect with your mission. Conduct outreach with board members, staff, volunteers, and program participants to find a good fit for your organization.
Keep communicating. Individual stories have natural beginning and ending points, but your job is to show how your organization creates change over time. Keep your audience invested with

regular updates

.