Featured
What can we learn from the buy one give one model?
Subscribe
Be the first to know about new Fluxx grants management resources, blog articles and podcasts.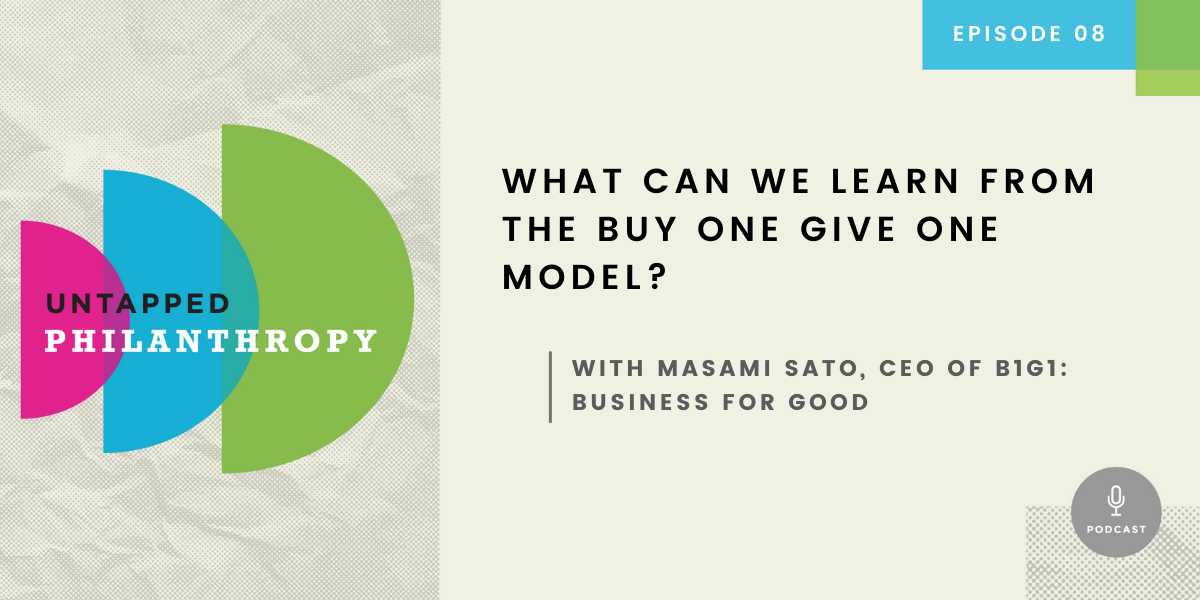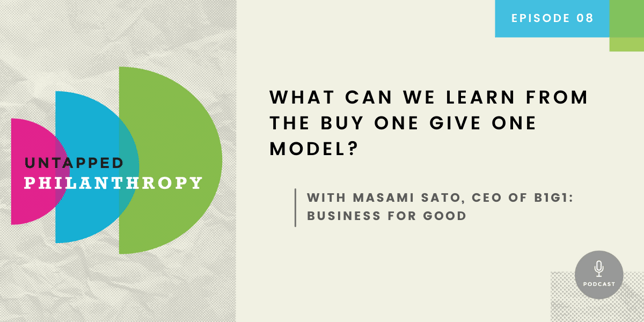 Today, there are a lot of ways to approach philanthropy. You have the traditional models: your generational family foundations, private funders, and nonprofits. Then you have the newer models of giving circles, social impact groups, corporate giving, and crowdfunding. And somewhere between all that sits B1G1: Business for Good.

B1G1 is the brainchild of Masami Sato. It's a global giving movement centered around the buy one give one model. The organization connects purpose driven businesses that want to make a difference with meaningful giving activities around the world. So that every time consumers make a purchase in their day-to-day lives, a brand donates a product or portion of proceeds to important world causes. The membership community currently comprises of +2,500 businesses who have collectively donated over $240 million to date.

One of the most famous examples of this model in the U.S. is of course the TOMS shoes 1:1 model – for every pair of shoes purchased TOMS gives a pair of shoes to a child in need.

Masami hopes that by integrating giving into the fabric of for-profit organizations, our economy can function more sustainably, corporations will make better use of our resources, and collectively we can lift and support communities in need.

Untapped Philanthropy Episode 8: What can we learn from the buy one give one model?

For this episode of Untapped Philanthropy, Masami and podcast host and Fluxx co-founder, Kerrin Mitchell, delve into corporate giving models and explore the future of international philanthropy.

Together they explore Masami's journey to corporate giving – from her upbringing in Japan to her life in Singapore today. They analyze the importance of global giving initiatives across various economies, and examine the frameworks of philanthropy in Asia, especially in countries where traditional philanthropic models aren't as present.

For example: traditional foundation and nonprofit models aren't nearly as popular in Japan. Why? Because unlike the U.S., Japan has a collectivist (rather than individualist) culture. Family takes care of family, communities and neighbors support one another. And it's expected that your local business gives back. Therefore there's far less pressure for nonprofits and funders to be the sole provider and caregiver when it comes to societal strife.

Therefore, is corporate giving the key to success in Asia?

As Kerrin notes in today's episode, India was the first country to pass laws that mandate corporate giving. As reported by the Guardian: "Following a change in company law in April 2014, businesses with annual revenues of more than 10 billion rupees must give away 2 percent of their net profit to charity. Areas they can invest this money in include education, poverty, gender equality and hunger."

It's an approach that Masami notes is especially important in societies with collectivist structures, where the mantra of profit over people is far less celebrated.

But as both speakers conclude, corporate giving is only one piece of the pie. Whether you're into traditional philanthropy, corporate giving, or simply like to throw your dollars behind a good crowdfunding campaign, it takes passion and commitment to drive real change in our ever evolving world. And it's Masami's passion that is powerfully conveyed in this episode of Untapped Philanthropy, and no doubt why Masami has had such a prolific speaking career.

Click the link above to listen to Masami's Untapped Philanthropy episode and tell us what you think on Twitter!

Still, need to catch up on past episodes of Untapped Philanthropy? You can listen to last month's episode – What's in a funders CIO playbook? – featuring CIO of the MacArthur Foundation, John Mohr, right from our blog, or on your favorite podcast listening apps including Apple, Spotify, and Google.

Episodes of Untapped Philanthropy are released once a month, and will always be shared via the Fluxx blog. We encourage you to subscribe to the Fluxx blog in order to stay up to date on new episode releases.
Link to transcript here.