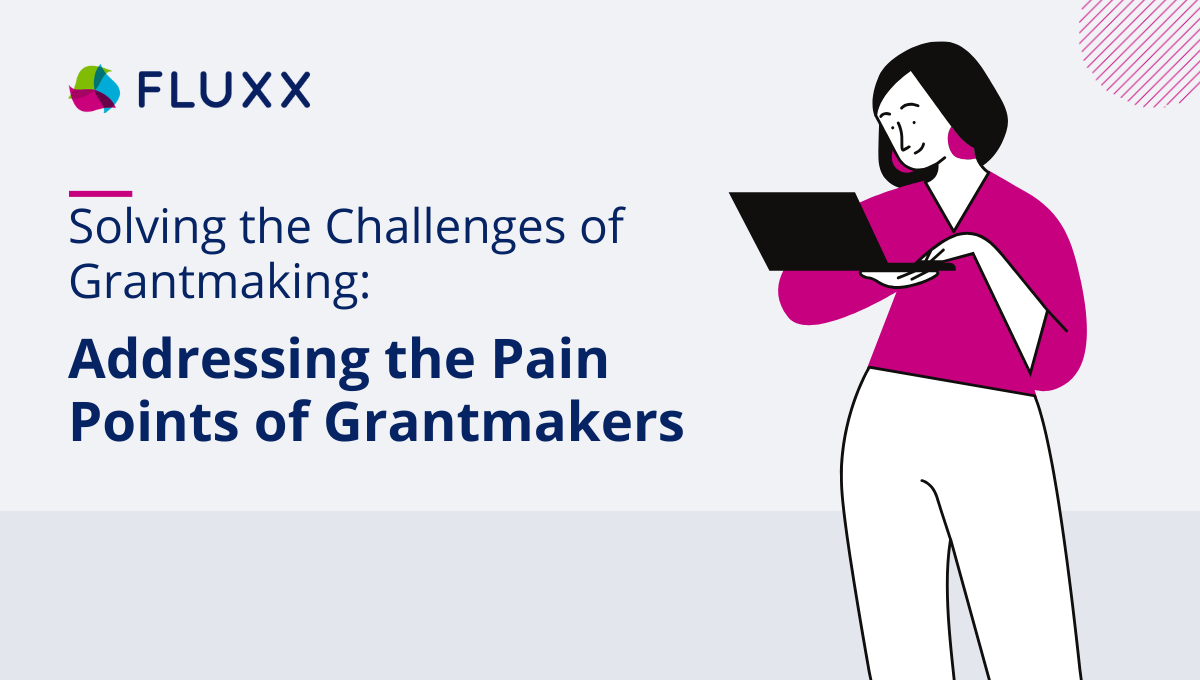 There are many necessary steps to consider when developing grant applications, selecting grantees, and closing the grant cycle. From developing eligibility requirements and evaluation criteria to reviewing and selecting proposals, grantmakers have a laundry list of internal protocols to follow, and they must think strategically about managing their workflow. Creating a process that is practical, yet effective, can benefit both the funder and the grant seeker from the pre-award through post-award phases. And it can help anticipate and eliminate any pain points ahead of time. Here are a few best practices and benefits to consider for solving grantmaking challenges and streamlining your workflow.
Define the purpose of the grant: An organization's mission can evolve, expand, and shift over time as the needs of the core community it serves change. So be clear about what you want to fund, the goals of your funding initiatives, and how those goals will benefit your target audience. Communicating clear goals and establishing a solid purpose for your grant will also align you with the right grantees, guide potential applicants to develop more competitive proposals, create a more seamless selection process, and ultimately help you maximize your impact in the long term. Setting a clear purpose will also help guide how you develop the entire application process.

Develop clear and transparent guidelines: Establishing clear guidelines in your applications, especially eligibility requirements and evaluation criteria, guides grant seekers in their proposal development, creates a smoother application experience, and assists program staff in the application review process. Vague guidelines confuse applicants and complicate the process. Applicants need to understand their eligibility, whether they meet other baseline requirements, and how their proposals will be scored. Make sure your language is as transparent and direct as possible. After releasing your grant application, if you discover there is room for interpretation in your guidelines, clarify and update the language through addenda.

Simplify the submission process: A user-friendly application process will result in stress-free applicants and happy grant reviewers. Utilize a dedicated grant management system that easily streamlines the process by allowing you to build out appropriate questionnaires and forms that will gather the most essential data and information needed from an applicant. Eliminating repetitive questions and redundant steps in your application process will allow applicants to move through the application smoothly and quickly. Applicants will be more likely to complete and submit their applications, improving the application completion rate. An efficient submission portal should also allow applicants to easily upload numerous required documents in one file type (preferably PDF format) for their applications. This will allow for a more efficient review process, avoiding an onslaught of different files and keeping documents organized. Program staff will be able to retrieve and review each application easily, and the portal will keep track of all their notes, thoughts, and scores in one place.

Be a responsive grantmaker: Navigating the grant application process can be a daunting experience for both novice and skilled grant seekers. Make certain that program officers are experts on the funding opportunity and can properly respond to questions or concerns when assisting applicants. Engaging and communicating with prospective grantees about any challenges they encounter will also help you refine and improve the process, eliminating any inefficiencies along the way. During communications with applicants in the pre-award phase, you might find elements of the process that can be changed immediately, or they might inform a refined approach to other processes during the pre-award and post-award phases of the grant cycle. Use this part of the process to informally gather data or feedback to better gauge the experience of applicants in real time.

Accommodate your selection committee: Selection committee members are crucial to the review process. In addition to assembling a team that reflects the diversity of the community you serve and has the experience and expertise needed to objectively score applications, you need to provide your team with the tools and sufficient time needed for a successful review process. As most grant management systems offer digital tools that can support easy navigation and review of applications. You can create a simple and structured scoring system within your submission portal that will allow committee members to stay objective and review applications in a timely fashion. Depending on the opportunity, several rounds of review may be needed before final selections take place. So simplifying this process for grant reviewers will ultimately lead to a better analysis of proposals and the best selection of applicants that align with your mission.

Support your grantees: After grantees are selected and awards are made, don't assume your grantees have all the tools and resources they need to meet your expectations and succeed. During the grant period, check in with your grantees. Actively listen to their needs to learn about the challenges they face in managing their program. Ask them about the current impact of your funding and how it can be better utilized. Regular engagement with your grantees will also provide insight into how you can improve your post-award processes, such as the reporting and data gathering needed to track grantee progress and program outcomes. As the grant period progresses, you can implement better tools for creating more seamless interactions with grantees, retrieving information for more efficient analysis, and sharing the results of your impact with other stakeholders.

Analyze the entire grant cycle: After a grant cycle is finally complete, review the details of the grantmaking process and determine what needs improvement in your workflow. Are your funding goals and overall mission still clear and well-defined? Can the application process be more user-friendly or easier to navigate? How seamless was the review and selection process? Are there other digital tools or grant management systems you should implement to simplify your workflow even further? How well did you communicate with applicants during the pre-award and post-award phases? Are your funding initiatives accessible enough to grant seekers? What were some other pain points you noticed but could not address immediately? Taking an honest and objective look at your grantmaking approach can help you highlight your wins in creating an efficient workflow and making an impact. But it can also help you make improvements and better preparations for your next cycle of funding.
Resolving pain points in your workflow will save applicants and reviewers time and energy. It will also reinforce a stronger and more efficient foundation for your grantmaking process to evolve over time as the needs and vision of your organization grow. A streamlined workflow can also make for a stronger program staff and attract more competitive proposals — leading to a more successful grantmaking process and maximizing the impact of your funding.