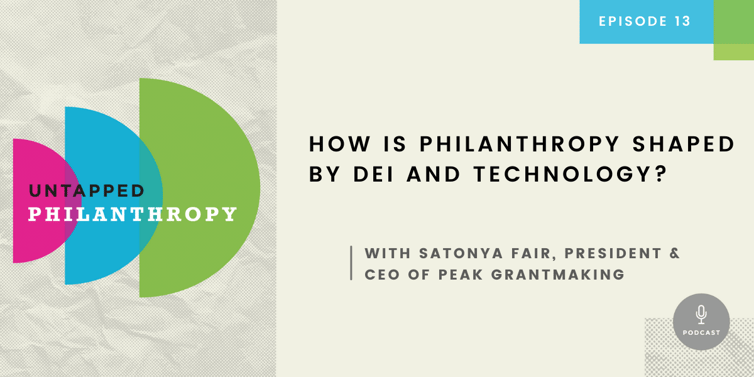 Mentioning DEI (diversity, equity, and inclusion) and technology in the same sentence can go one of two ways:

"Well, turns out the recruiting software we used to hire at our multi-national nonprofit is showing signs of unconscious bias."

Or…

"Our new grantmaking technology has allowed us to implement trust-based philanthropy and fairly distribute funds out to the communities that need it most. We're now able to prioritize more diverse needs and initiatives."


All this to say, philanthropy (like any industry) is growing and changing, and oftentimes funders and nonprofits rely on technology to accomplish DEI goals and other important initiatives. But as you will hear in season two episode one of Untapped Philanthropy the primary driver of true innovation and success in any DEI or technology initiative is partnership, communication, and support from collaborative groups. We all want to evolve our work to meet the needs of societies around the world. But without partnership philanthropy will continue to operate through a fragmented lens. And as an industry built by communities for communities — we simply can't let that happen.

Untapped Philanthropy Season 2, Episode 1: How is philanthropy shaped by DEI and technology?

Satonya Fair is a philanthropy visionary and industry strategist who currently serves as the President and CEO of PEAK Grantmaking — a thriving organization of 6000+ grants professionals working together towards equitable, effective grantmaking practices.

This week she and Fluxx co-founder, Kerrin Mitchell, kick off season two of the Untapped Philanthropy podcast. Satonya reflects on her storied career in foundations and nonprofits, shares her thoughts on leadership and DEI, and the implications technology has on the work of thousands of grantmakers.

Technology Shapes Grantmaking, But Grantmakers Shape Technology

Satonya has described philanthropy tech as less about the technology itself, and more about learning from grantmakers and giving credit where credit is due.

"If you take all the technology away I still need to make grants. If I am in charge of grants management at X organization, and there's no computer, if there's no anything, I still have to fund these grant investments," Satonya said. "The key is that I get that done. And you can create the technology that helps me, but give me credit for giving you the blueprint for how we need to do the work. And I'm going to give you credit that you created the technology."

This chicken or the egg query, if you will, of funder and technologist is something Kerrin is all too familiar with. Together both philanthropy leaders explore the concept of partnership in philanthropy, and how this informs everything from DEI to grantmaking and grantseeking.

DEI is Process-Driven Work

"I think it's PEAK's role, with love and respect, to speak honestly with our funders and members to help them understand that you can get to equity through effective [grants management] practices. And your great mission and strategies can be undermined by bad practice," Satonya said.

If I tell you that I want to advance equity, it's not just about who's inside the organization, but this work includes all the folks who are outside as well. The folks that we say we are trying to help," continued Satonya. "And so, to think about DEI and all the different opportunity areas, all the technology vendors, we have to communicate and agree on the importance of equity."

As the leader of a grants professional organization that consults with its members on a daily basis on how to work equitability, Satonya knows that DEI isn't a concept, it's a process.

"You can actually advance equity by just having appropriate right size processes. And I think tech and the funder can be meeting in the middle of that and in small ways and in larger ways to advance diversity, equity, and inclusion. In particular, equity in the process of how we make grants," concluded Satonya.

Kerrin and Satonya both agree, a DEI-driven grants process isn't complete without communication with nonprofits. Successful nonprofits and thriving communities are the result of this work. The end goal informs the grants process, just as grantmakers inform grants technology. This work is why Fluxx is so passionate about partnerships and we believe a technologist's work is never complete without collaboration.

Click the link above to listen to Satonya's Untapped Philanthropy episode and tell us what you think on Twitter.

Do you still need to catch up on episodes of Untapped Philanthropy? You can listen to last month's episode – Untapped Season Finale: Special Guest Host and a Big Announcement – featuring, Kerrin Mitchell, and guest host and Fluxx CEO, Kristy Gannon, right from our blog, or on your favorite podcast listening apps including Apple, Spotify, and Google.

Episodes of Untapped Philanthropy are released once a month, and will always be shared via the Fluxx blog. We encourage you to subscribe to the Fluxx blog in order to stay up to date on new episode releases.

Link to transcript here.