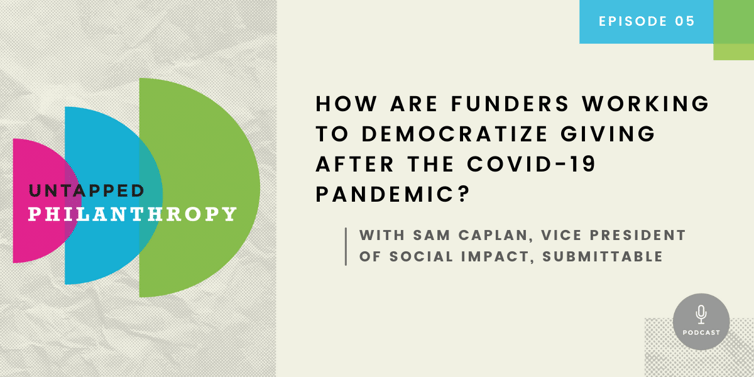 It's no secret that the COVID-19 pandemic led to an outpouring of funder support. Major funders worldwide quickly loosened their grant restrictions, eased reporting requirements, and leveraged new technology tools and platforms to give more freely in the hopes of sparing their grantees from impending financial catastrophe.
This week Fluxx co-founder and host of the Untapped Philanthropy podcast, Kerrin Mitchell, sits down with funder technologist, futurist, (and former Fluxxer) Sam Caplan, to explore the accelerated change of funders and technology. Together they examine the role technology must play in building more equitable giving communities and discuss the role technologists play in driving change.

Untapped Philanthropy Episode 5: How are funders working to democratize giving after the COVID-19 pandemic?
Sam Caplan has held many technology leadership roles in philanthropy. He's the former Chief Information Officer of the Walton Family Foundation, and prior to that served as the Director of Technology and Data Analytics for the Walmart Foundation. His obsession with technology's role in giving started early in his career and is in large part what makes him a fascinating and sought-after speaker and writer for Tech for Good (seriously, check out the white papers he penned for the Technology Association of Grantmakers).
As he shares in this episode of Untapped Philanthropy, Sam has always made a point to regularly meet with grantmaking technologists of varying backgrounds throughout his career in order to better understand the critical role that technology plays in giving. As he examines the future of philanthropy, he hopes to see technology become more democratized as organizations increasingly leverage APIs to connect best-in-class solutions.
At the same time, he hopes to see funders let down their guardrails, and is eager for the day that "nonprofits have the opportunity to develop their proposals and have them viewable by a wide audience via a nonprofit marketplace. I'm super interested in finding ways that we can better use technology to match these proposals with the most likely funders, just to find ways to reduce all the administrative burden that nonprofits have to go through just to be able to get grant dollars," Sam said.
Kerrin and Sam's thoughtful discussion encompasses a variety of additional topics including:
How technology can be implemented across programs teams and initiatives in order to enable further success for nonprofits
How to improve accessibility, DEI, and the grantee experience with technology
The future state of technology and a connected technology ecosystem
So if you're a technologist, funder, philanthropy futurist, or lover of big ideas – consider this episode of Untapped Philanthropy to be a "can't miss" discussion, and click the link above to listen now.
Do you still need to catch up on episodes of Untapped Philanthropy? You can listen to last month's episode – Can Philanthropists Cut Through Delusion to Transform Their Giving – featuring renowned author and funder consultant, Kris Putnam-Walkerly, right from our blog.
Episodes of Untapped Philanthropy are released once a month, and will always be shared via the Fluxx blog. We encourage you to subscribe to the Fluxx blog in order to stay up to date on new episode releases.