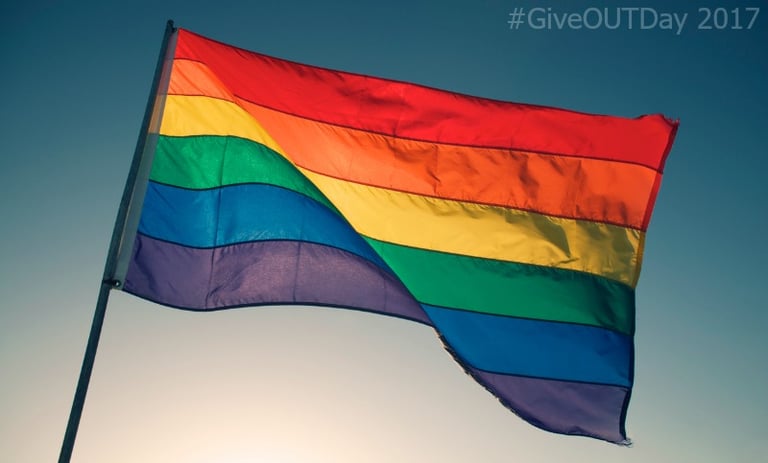 When Give OUT Day was founded in 2013, it rose out of a sense of urgency and acute need. Its mission – to bring the LGBTQ community's nonprofits and allies together across the country on a single day dedicated to giving – remains as critical today as it was five years ago.
In 2013, the Defense of Marriage Act still stood, and most states barred same-sex marriage. What's more, the country was still recovering from the Great Recession. Now, despite progress on many fronts, the community faces new potentially more serious challenges from an actively hostile administration.
Today, the call to fund the resistance is as urgent as ever. The good news: if the long history of LGBTQ giving is any indication, the community and its allies are ready to mobilize.
There are so many compelling reasons to give these days, so many communities in need. We're seeing a groundswell of giving, volunteering, and organizing across the nation and today should be a continuation of that effort.
Roger Doughty, president of the Horizons Foundation, said it best: "Give OUT Day is the perfect opportunity for every LGBTQ person – and every one of our allies – to make sure that our nonprofits have what they require to litigate, educate, and fight for our rights. Give OUT Day is the perfect chance for all of us – together – to ensure that nonprofits have what it takes to help our community, whatever our people's needs for service, help, and support may be."
The Give OUT Day website makes it easy to click, search, and give. The power of the individual giver shouldn't be underestimated. According to Giving USA, more people donate money than vote in the U.S. Every $1, $10, and $50 donation makes a meaningful cumulative difference in helping create a more equitable and just world.