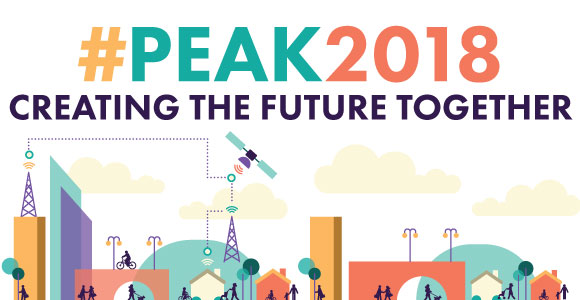 The 2018 Peak Grantmaking conference just wrapped up, and what a fantastic time we had connecting with old friends and making new `any members of the Fluxx family come to Peak every year in search of new skills, ideas, and fellowship, and this year was highly successful on all fronts.
Themed, "Creating the Future Together," a common thread at Peak this year was a focus on values: from the opening plenary where Kerry Medek, Pia Infante, and Philip Li talked about trust-based philanthropy, through to the closing remarks where Kelly Brown and Satonya Fair discussed how better data will help promote diversity, equity, and inclusion.
We also discussed values in our Fluxx-led conference session "Achieving mission through better technology: how to change grants management systems without changing your values." Joining our panel was John Mohr, Chief Information Officer at the MacArthur Foundation, Mark Walker, Knowledge Management and Technology Officer at the Jessie Ball duPont Fund, and Patrick Taylor, Grants Manager at the Zellerbach Family Foundation.
Each talked about their journey to a new grants system, providing invaluable insight and advice. We focused on each organization's mission and values, and talked about how technology must enable users to put their values into practice every day.
Here are five key takeaways from our panel discussion:
Software should reflect three key values that are critical in grant making: transparency, collaboration, and efficiency

. Transparency should permeate the entire process, enabling all participants to have an unfettered view into the end-to-end lifecycle of a grant. Collaboration among teammates and grantees is critical, and technology must enable everyone to easily communicate and work together on tasks. Efficiency is key to reducing cost, overhead, and reducing 'grantee burden' where your nonprofit partners spend valuable resources in procuring and reporting on funding instead of focusing on their mission.

Include your users throughout the selection and implementation process

. Not only is users' buy-in critical, but they will have important insights toward what is essential for real-world grant making. Often it's the technology team that oversees the selection and implementation of a new system, but without the insight of users the effort will be at risk of missing key requirements and face many challenges towards adoption.

There are pros and cons of building process improvement into the implementation

. Be careful not to make so many changes when you improve process that you overwhelm and confuse your grantmakers. Our panelists took both approaches: improving processes while implementing a new grants system, and leaving processes in their current state so as not to create too much change all at once. Both are valid, and you should work with your team and all users to collectively determine which makes sense for your organization.

Once implemented, data generated by a new system can reveal opportunities for improvement

, for example, how long it takes to complete a grant. It's important to resist using this data to pressure individuals to make personal improvements. Instead, work with your grantmakers to view this new data in a positive light and collaboratively find the right solutions to ensure everyone's success.

Expect the unexpected, and understand that requirements will change over time

. Change management will be crucial throughout the process as missed requirements and needed changes are discovered. Don't feel pressured to get everything perfect in the initial release. An iterative approach where the most important requirements are tackled first, followed by subsequent releases adding additional features and changes, will serve you well.
We encourage you to take advantage of the expertise that Fluxx has to offer. We've overseen hundreds of implementations, and work with many foundations using a variety of features, functions, and processes. We're happy to share sector-wide best practices, and our own lessons learned delivering grants management solutions to many of the world's most impactful foundations. If you have questions please don't hesitate to ask for a demo. And, we look forward to seeing you at Peak 2019!