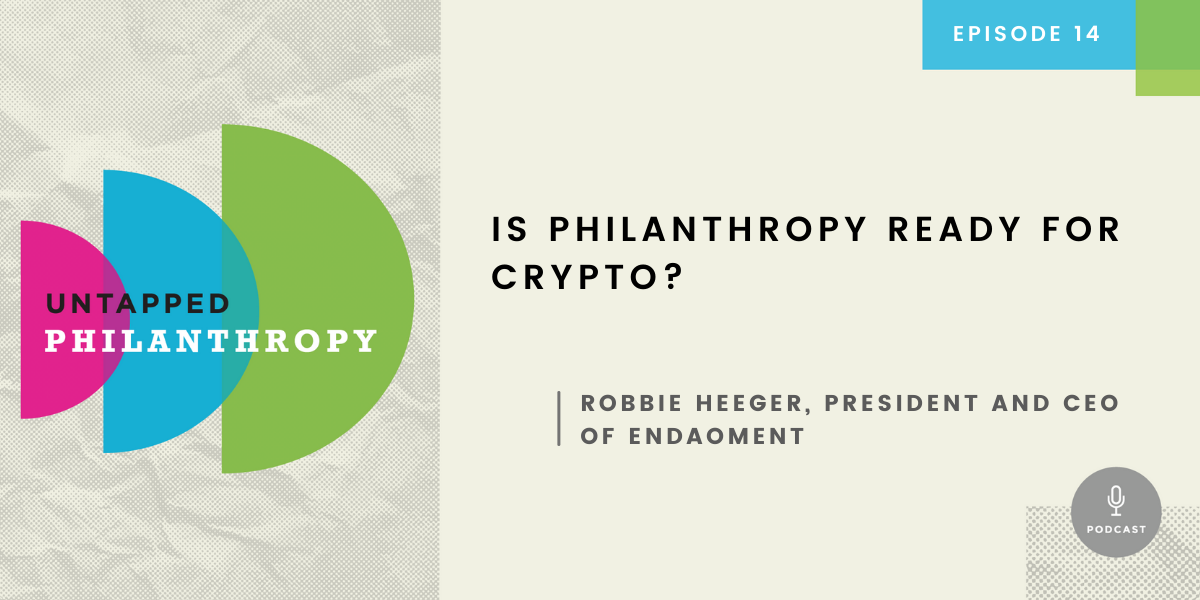 It's not often that you hear cryptocurrency, Bitcoin, or Ethereum uttered in the same sentence as philanthropy. Most nonprofits (and funders for that matter) aren't equipped to accept or distribute a crypto donation. And let's be honest, the philanthropic sector isn't known for its early tech adopters, and certainly not crypto geeks.
But as Robbie Heeger, president and CEO of Endaoment — a tax-exempt community foundation built for the crypto industry and focused on social impact — will tell you, getting started in crypto is simple. And there are just four key steps to becoming fully enmeshed in the world of crypto and DAOs (decentralized autonomous organizations). Give the episode a listen to the episode to learn more about those.
We have a feeling that by the time you finish this podcast, you're going to be curious (and ready) to get started with the fastest and most decentralized way of giving.
Untapped Philanthropy Season 2, Episode 2: Is philanthropy ready for crypto?
So… what's Endaoment?
"​​We are a community foundation that uses crypto to power its governance, and we accept any crypto asset of any kind: Bitcoin, Ethereum, Ripple, Litecoin, MFTs, SUSHI, you name it. We take it and we turn it into dollars. And we route it to any of the nation's one and a half million nonprofit organizations. We've built fantastic infrastructure that routes these donations as dollars straight into a US bank account," said Robbie.
Endaoment was founded in 2019. Meaning the team had roughly a year before the pandemic made its way across the world, and the organization was formed just before we saw a monumental explosion in the growth of the crypto industry. At its height, Bitcoin was trading at approximately $64,000 in 2021, compared to its average of $7,000 in 2019. And while donating cryptocurrency is still a relatively new concept, the ability to give with crypto coincides with key social and political trends.
"People are starting to lose trust in institutions. We're witnessing polarizing government policies, COVID, and inflation. And this has been building for years. But there seems to be a boiling point right now where these alternatives for how to give and what to do, are actually starting to pop up," noted Kerrin.
With distrust and uncertainty leading people to seek out new ways of giving, we may see a surge of cryptocurrency donations in the coming years. And when there's a middleman ready to turn those decentralized currencies into dollars, not much will have to change for the nonprofits accepting these donations.
"​​The adoption of crypto, especially at the philanthropic level, is going to be limited by the board level curiosity about the technology and willingness to experiment and try new things. And I think at Endaoment, we've tried to make it as non-experimental as possible," said Robbie.
Click the link above to listen to Robbie's Untapped Philanthropy episode and tell us what you think on Twitter.
Do you still need to catch up on episodes of Untapped Philanthropy? You can listen to last month's episode – How is philanthropy shaped by DEI and technology? – featuring president and CEO of PEAK Grantmaking, Satonya Fair, right from our blog, or on your favorite podcast listening apps including Apple, Spotify, and Google.
Episodes of Untapped Philanthropy are released once a month, and will always be shared via the Fluxx blog. We encourage you to subscribe to the Fluxx blog in order to stay up to date on new episode releases.
Download transcript here.