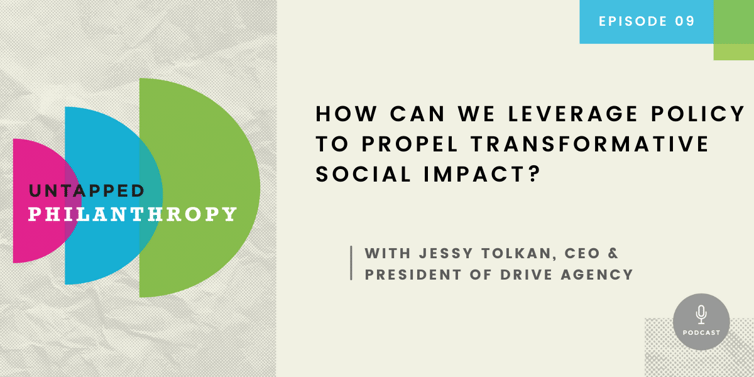 Philanthropy, and particularly funders, has a complicated relationship with policy. On the one hand, funding and campaigning for important policy changes can lead to critical solutions that philanthropists hope to leverage to further their chosen causes. On the other hand, advocating for policy change can require a massive amount of funding, and comes with a certain amount of risk. Unless you're a large funder like the MacArthur Foundation, who recently awarded another $18 million in grants to rethink local justice systems, it can be disconcerting to provide capital for untested projects.

Will these grants lead to proven and measurable results? Will it be possible to measure the true impact of funding grassroots efforts?

Enter, the Drive Agency. The brainchild of Jessy Tolkan, the Drive Agency is a "vehicle for decision-makers to influence their stakeholders to unlock transformative social change in the world."

"Drive Agency is a new force in the world. But the work is built off the last 20 years that I have spent as a campaigner and a movement builder. Drive Agency, we like to say, is not an agency, but it is in the business of driving agency, in everybody from citizens to CEOs," said Jessy.

Untapped Philanthropy Episode 9: How can we leverage policy to propel transformative social impact?

For this episode of Untapped Philanthropy, Jessy and podcast host and Fluxx co-founder, Kerrin Mitchell, dive into grassroots activism, policy, global health, and climate change.

Jessy shares how her career of advocacy and movement building began early as a student at the University of Wisconsin-Madison. While enrolled, Jessy became concerned about the historically low voter turnout she was seeing in her peers. At 19, Jessy ran and was elected for her local city council. It was her first full-fledged effort to organize students to participate in a municipal election – proving that youths can have a powerful voice in the Wisconsin community.

"Those lessons I learned early on about the power of giving people an opportunity to engage in their own backyard, engage in elections, engage in issues that matter most to them, has really formed my view that there is no shortcut to building political will. And there's no shortcut to building power, to make lasting change on issues. And I've spent 20 years trying to help philanthropy understand that those are the types of strategies that will pay off massive dividends for so many years to come," said Jessy.

Grantmaking and policy change – you can't have one without the other

Risk aversion can often keep funders from diving into hotly contested advocacy work, and yet, Jessy and many other advocates believe that the success of grantmaking depends on its commitment to building groundswell support for important causes.

As our world continues to grapple with ever-increasing societal, economic, and environmental problems, philanthropy will need to make big bets in the hopes of enacting big change. Advocates and policymakers are ready to take those funds and turn them into powerful acts of change.

Click the link above to listen to Jessy's Untapped Philanthropy episode and tell us what you think on Twitter!

Want more episodes of Untapped Philanthropy? You can listen to last month's episode – what can we learn from the buy one give one model – featuring Founder of the B1G1 organization, Masami Sato, right from our blog, or on your favorite podcast listening apps including Apple, Spotify, and Google.

Episodes of Untapped Philanthropy are released once a month, and will always be shared via the Fluxx blog. We encourage you to subscribe to the Fluxx blog in order to stay up to date on new episode releases.
Link to Podcast transcript here.