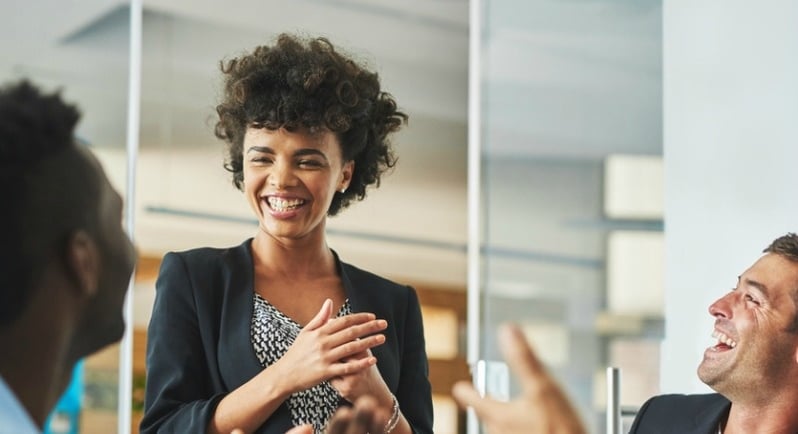 We get it. It's hard not to treat organizational culture as an afterthought. The nuts and bolts of grantmaking come first at your foundation. Grantmaking, after all, is the primary way foundations create positive change in the world.
But we think culture matters. And here's why.
A positive and vibrant organizational culture impacts everything you do, from developing strong grantee relationships to your ability to recruit top talent at your foundation. And organizations that live and breathe their ideals are more successful and boast happier staffs than those that lack clear visions. Culture is the glue that binds and reinforces those values across your foundation and instills them in your entire team.
The visionary management consultant Peter Drucker has said that "culture eats strategy for breakfast," and we heartily agree. Strategy is important, of course. But culture guarantees that your programs sustain the broader vision. As you reflect on how you want your foundation to grow in 2017, use the following strategies to build a culture that nurtures your community and helps you reach your goals.
UNIFY AROUND AN ACTIONABLE MISSION Orient every team member and stakeholder toward fulfilling the same vision. Begin with a mission statement. This can be as simple as the Alzheimer's Association's call for "a world without Alzheimer's." Whatever your purpose, make it powerful and succinct. Then explain how donors, partners, and employees will help fulfill your promise.
CRAFT YOUR NARRATIVE Great stories inspire people to action, so be mindful of how you're telling yours. Showcase your culture by capturing anecdotes, testimonials, and data points that reflect your values and influences. If you're unsure of how to craft your story, step back and assess your organization. Ask questions such as, "What is our work environment like?" "What are our communication styles?" "How do we make decisions, and who is involved in the process?" "Which factors determine our goals?" The answers will help your narrative take shape.
ENCOURAGE COLLABORATION Foundations work best when everyone works as a cohesive team instead of as disparate departments. Everyone brings a unique skill set to the group, but these should complement one another. For example, grant and program officers can attend one another's meetings and retreats, and communicate about their goals. Now both sides of the house can support each other because of this collaborative relationship.
EMBRACE THE NEXT-GEN WORKFORCE More than half of the American workforce is composed of Millennials, and 84 percent of them made charitable donations in 2014. They are strongly motivated to change the world, and as digital natives, they possess tech skills that can help foundations modernize their operations. These attributes make them natural allies for charitable organizations, so make sure you're targeting this demographic in your recruitment strategies.
Because it can be difficult to measure culture's direct return on investment, some wonder whether it is worth the effort.
We say yes. A direct line can be drawn from a healthy organizational culture and philanthropic impact. You can't expect greatness when your team members are simply going through the motions without any sense of purpose. People are most effective when they're inspired, and an intentional, vibrant organizational culture lights that fire. Learn more ways to inspire your team and create a culture that help you deliver on your mission. Download our white paper, Why Your Foundation's Culture Matters More Than You Think.