Strategic Storytelling in Philanthropy: The Pillars of a Successful Narrative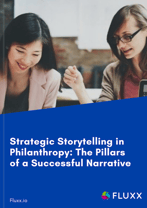 The ultimate goal of philanthropy is to turn 1 success story into 1,000 success stories. Effective use of data makes this possible. But sometimes, making real sense of data is easier said than done. Don't worry. This guide will help you use data to reveal trends that elevate your stories & inspire stakeholders to action.
Download this guide & learn how to:
Assess how you use data now.

Develop a plan for using it better.

Reach out for feedback
Remember, nothing compels people to action like a moving story. Fill out the form on the right now to get started.