Select Equity: Building Better Grantee Relationships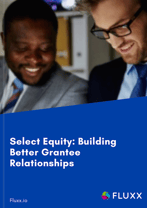 Robert Wilson was excited to take on the role of executive director at the Select Equity Group Foundation, but he found that the process to get things done was not so simple.
"In 2007 I was spending a good part of my day trying to find historical information by endlessly sifting through old emails, looking at endless spreadsheets and scrounging for old pdfs and paper documents. It took me days to get the data I needed. I knew there had to be a better way."
Download the complete grants management case study and learn how Fluxx helps the foundation simplify its processes and allows Wilson and his team to cultivate more meaningful grantee relationships.