Why Grantee Relationships Are A Grantmaker's Most Critical Resource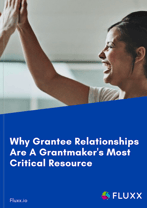 Are your grant applications or other processes making life difficult for your grantees?
Even unwittingly, if you're passing along undue burdens to your grantees, you're harming the very people you work so hard to help (and missing out on a great opportunity)!
It's important for foundations and their grantees to engage and collaborate to make real societal change happen. That's why we created this guide!
Download it to learn:
Why it's important to recognize the need for foundations and nonprofits to collaborate
The benefits of a strong funder-grantee relationship
Ways for funders like you to build better relationships with your grantees
Grantee partners have a wealth of knowledge to contribute to the overall success of a program. It's critical to nurture those relationships.