HOW TO TRANSFORM THE GRANTEE REPORT INTO A VALUABLE ASSET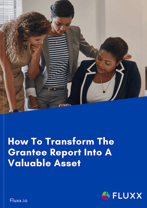 It's time to reframe the future of grantee reporting.
Grantee reports are a fantastic opportunity to share the progress of an organization's work, but they often become a tedious task that provides little learning potential for either the nonprofit or the funding partner.

Instead, reports should be a meaningful exchange of data and stories, and used as a launching pad for iteration and improvement for both foundations and their grantees.
Download this whitepaper to learn:
The characteristics and challenges of traditional reporting
Why reassessing your grantee report is so important
How to build a better report by improving clarity, exploring interactive elements, and more