Grantmakers: How a Focus on Grantees Creates Meaningful Impact Assessments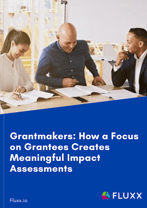 Grantmakers & nonprofits want to demonstrate their impact, but some may not be adequately prepared to address the challenges that arise along the way.
Unfortunately, funders sometimes skip important developmental steps or fail to pay enough attention to their grantees' capacity or preferences when designing or implementing evaluations.
Download the whitepaper to learn the benefits of a grantee-centered approach to measuring impact, including:
How data becomes more precise and useful under this paradigm
How it makes data more actionable and meaningful to the sector as a whole
How it will reduce the burden on your grantees
Fill out the form on the right to get the whitepaper now.