Harnessing the Power of Strategy in Corporate Philanthropy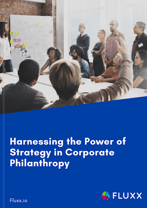 Corporations give back to their communities in many ways: matching gifts, product donations, community grants, volunteerism, and more.
Determining the most strategic way for your company to approach corporate giving is challenging. Rallying employees behind a single cause can lead to greater impact, but without employee buy-in and alignment with your brand you likely won't see the results you want.
Download this whitepaper to learn:
The different ways companies can participate in corporate philanthropy
The difference between corporate giving programs and corporate foundations
How to formulate a giving strategy that will create the most impact