The Grants Management Software Implementation Playbook: 5 Tips for Surefire Success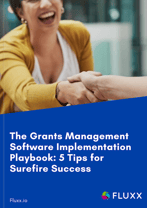 You've found the right grants management software for your foundation. Now you just need to implement it!
Whether you're tech-savvy or not, a successful software implementation can be a challenge. Proper planning, clear communication among stakeholders, and a focused long-term outlook will ensure your transition goes smoothly.
Download this guide to learn what challenges lie ahead, and 5 key tips to help you on that journey, including:
Mastering change management at your foundation
How to create a technology roll-out plan
The best ways to approach initial and long-term training