Best Practices for Building Nonprofit Capacity With Technology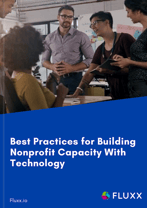 Whatever an organization's mission, technology can help achieve it. Simply put, technology makes nonprofits stronger.

That's why it's so important for foundations to understand the critical role they play in technology capacity-building. By providing technology and technical assistance, foundations can promote stability and the overall effectiveness of their grantees.
Download the whitepaper to learn 5 best practices for using technology to build nonprofit capacity, including:
How to connect technology giving to your larger strategy
Ways to evaluate grantee readiness
How to conduct a technology assessment