DGMT improves the lives of its grantees.
Grantmaking that Realizes South Africa's Potential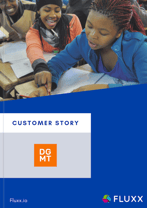 For the DG Murray Trust, using Fluxx means that everyone at the foundation, no matter where they are, has access to any grant at any time and can see where it is along its lifecycle, thanks to the cloud-based solution.
"Certainly from an oversight management standpoint that has substantially made my life easier," said Sandra Ngwena, Director of Operations at the DG Murray Trust.
Read the complete Success Story to find out how DGMT has been able to leverage Fluxx to improve not only its own lives but also the lives of its grantees.