Blue Shield Focuses on Mission with New Grants Management Software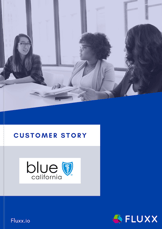 The Blue Shield of California Foundation recognized the need to move to a grants management solution that would allow the foundation to scale its grant program and quickly distribute grants.
The case study shares how, with Fluxx Grantmaker, the Blue Shield of California Foundation is able to:
Automate every step of the grantmaking process so proposals can be templatized
Streamline workflows in order to speed and manage grants from start to finish within a single platform
Easily tailor Grantmaker to meet the unique needs of different team members and grants
"Fluxx Grantmaker was an ideal fit for us because we needed a system that would allow us to rapidly process grants yet still be compliant and consistent with our core values." – Rick Bond, Senior Grants Manager.