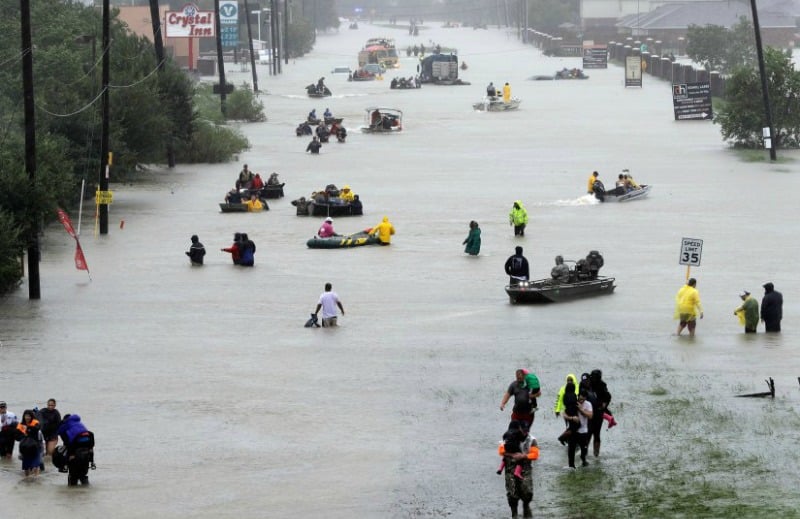 People making their way down a flooded street in Houston, Texas. Joe Raedle/Getty
Hurricane Harvey, a Category 4 storm when it made landfall near Corpus Christi, Texas Friday night, has paralyzed much of the state and left thousands displaced. One hundred and thirty mile-per-hour-winds knocked down trees and power lines, generally wreaking havoc across the region.
But it was the deluge of unrelenting rain that has debilitated points across the Lone Star state, including in Houston, the country's fourth largest city. The National Weather Service estimates that an historic 50 inches of rain fell in some areas of Houston. Harvey, now a Tropical Storm, is making a second landfall in Louisiana on the 12th anniversary of Hurricane Katrina. Healing, recovery, and rebuilding require a substantial and sustained effort.
In Houston, private citizens with boats have descended into flood zones to pluck families from rooftops. The Houston Convention Center has opened its doors to all who've been pushed out of their homes, nearly 10,000 survivors at last count.
We all want to help. And we want to make sure our help makes a difference.
According to The Center for International Disaster Information (CIDI), monetary contributions to established relief agencies are always the best way to help. Juanita Rilling, the executive director of CIDI, explains that "cash donations take no time, they leave no carbon footprint (like plastic bottles, for example), they don't cause cultural insensitivities, and they 'are used by relief organizations to purchase supplies in the area surrounding the disaster site…[which] strengthens local economies…[and] makes the rebound occur more robustly.' "
But how do you know who to give to? If you're outside the affected area, there are numerous options to help. Remember, it's important to do your own research before you give.
Here's a list of some of the organizations that are undertaking the important work of helping save lives and provide comfort to Harvey survivors:
Also a number of food banks are likely to be depleted in the days and weeks following the storm. Consider donating cash directly to:
Perhaps the best way to respond to Harvey is by raising funds and fostering community awareness of organizations that support trained personnel on the ground. No donation is too small and every dollar contributes to saving lives and reducing human suffering in the most economical, efficient and appropriate ways possible.